Fraser Wilson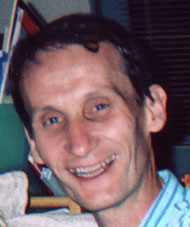 Fraser Alan Webster Wilson died Nov. 6, 2006, in Tucson, Ariz., following a year of progressively deteriorating health due to lung cancer.
Wilson was born on May 3, 1954, in England. He grew up in the United States and Australia, and attended the University of Sussex in the UK, where he stuidied experimental psychology. He completed his PhD at the University of Oxford in 1986 in the laboratory of Edmund Rolls, and conducted his post-doctoral training first with Malcolm Brown at the University of Bristol and later with Patricia Goldman-Rakic at Yale University. He joined the faculty in the psychology department at the University of Arizona in Tucson in 1996. In 2005, he became the Director of the Laboratory for Prefrontal Cortex and Cognitive Neuroscience Research at the Kunming Institute for Zoology, Chinese Academy of Sciences, dividing his time between China and his home in Tucson.
Wilson was an electrophysiologist studying cognitive function in behaving non-human primates. He studied the neural underpinnings of associative learning, recognition memory, the processing of faces, the representation of egocentric space, and the planning and sequential execution of motor movements through space. After 25 years of recording from neurons in behaving monkeys within the constraints of the laboratory setting, Wilson relocated his research program to Kunming in order to study cognition in freely moving monkeys. There Wilson became the first foreign scholar to receive funding from the National Science Foundation of China, studying spatial information processing in the prefrontal cortex of monkeys as they engage in tasks requiring movement through a semi-natural environment. His contributions to the academic community in Kunming led to his being honored as the recipient of the Colorful Yunnan Friendship Award, 2006, from the People's Government of Yunnan Province.
Wilson made numerous substantive contributions to science. His published work traces a career in pursuit of fundamental issues in the field of cognitive neuroscience, describing the application of technically difficult and meticulously executed studies. He was very much a lab scientist, continuing to record from neurons himself rather than relying exclusively upon the efforts of students, post-docs and technicians in his laboratory.
Fraser Wilson had a playful and witty sense of humor. He had broad interests outside of science, from playing the guitar to riding a motorbike. He enjoyed conversing about a terrific range of topics, and gave full attention when so engaged. He was kind and gentle by nature, and adored by all who came to know him. His friends and colleagues in the UK, the US, and China will miss him dearly. He is survived by his wife of 28 years, Fatima.
In Remembrance
I just read about Fraser's passing. I am so very sad to learn this information. I worked with Fraser for 8 years in the laboratory of Dr. Godlman-Rakic. Fraser was a kind and gentle man, and always smiling. He loved his work with monkeys, and his gentle way with them was evident by the way they responded to him. Fraser was a great teacher to me, and always very helpful. I have very fond memories of him and will always remember my time working with him. My sincere sympathy to Fatima.
I had the honor of working with Dr. Wilson at the University of Arizona in the late '90's. He was a very passionate man when it came to his work and a true buddy for the short time I worked with him. We had many laughs and head scratching sessions trying to figure out how to accomplish some reasearch obsticles in front of us. I learned so much from Fraser and he will never be forgoten. May he rest in peace. -Jim Izlar