Mark A. Smith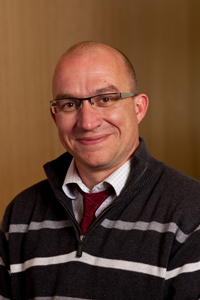 Mark A. Smith, PhD, Professor of Pathology at Case Western Reserve University and internationally prominent Alzheimer's disease researcher, passed away unexpectedly on December 19, 2010. He was 45.
Mark grew up in Leicester, UK, the son of a coal miner, and was the first in his family to attend college after receiving a scholarship to Durham University. Mark graduated with honors in 1986 with a Bachelor's of Science degree in Biochemistry and Molecular Biology, and then matriculated at Nottingham University, obtaining a PhD in biochemistry in 1990.
Mark's rise in neuroscience in the mid-1990s was marked by his innovative ideas, exceptional enthusiasm, and communication skills, as well as an unlimited generosity to collaborators and co-workers, which worked in concert both to revolutionize the field, and earn him the loyalty and respect of innumerable colleagues. Oxidative stress figured prominently in his early studies, with the discovery and characterization of the first oxidative modification of Alzheimer disease's pathology, and the first in situ demonstration of oxidative response induction.
Completely apart from Mark's innovative nature, he was legendary in his over-commitment to his colleagues. He directly mentored or trained over 100 students at various levels. He sat on 17 NIH study sections and 48 other national and international granting agencies. He delivered close to 300 invited lectures and served as keynote speaker for four major international meetings. Mark served as Editor-in-Chief of the Journal of Alzheimer's Disease and sat on the editorial boards of numerous scientific journals, including Science Translational Medicine, the American Journal of Pathology, and Journal of Neurochemistry.
In recognition of Mark's exceptional devotion to students, he was honored with the J. Brooks Jackson Undergraduate Award for Excellence in Mentoring in 2009, a singular award given annually across all schools at Case. One student comment uncovered during the selection process summed it up best: "I have never met a professor who is more personally invested in the success and best interest of his students."
His many honors included the ASIP Outstanding Investigator Award from the American Society for Investigative Pathology and the Denham Harman Research Award. He was elected as a Fellow of the American Association for the Advancement of Science among many other scientific societies. He had recently been awarded the Goudie Lecture and Medal of the Pathological Society, but passed away before he could deliver the lecture.
Mark's friends knew him as someone with an implausible wit and a magnetic personality. One can scarcely recall even a single conversation with Mark that was not accompanied by laughter. He greeted everyone as though it was his privilege to see them, always with a smile and always with an earnest enthusiasm. Mark's energy and love of life were palpable, and provided his family and friends with a lifetime of pleasant memories.
Mark is survived by his wife, Gemma Casadesus Smith, of Chagrin Falls, Ohio, his two sons, William and Luke, his father John (Jack), and his sister Tina. His mother, Rita, passed away in 2004.