Joel R. Stiles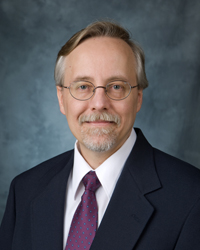 Joel Stiles, director of the National Resource for Biomedical Supercomputing (NRBSC) at the Pittsburgh Supercomputing Center, passed away in Wexford, near Pittsburgh, on Friday night, May 20, after a long battle with brain cancer.
Joel was an esteemed colleague, a friend to many of us, and a distinguished scientist who contributed immensely to PSC's work. We will miss him, and we mourn his passing.
Joel joined PSC in 1999 and became director of NRBSC in 2005. "Joel was a great scientist, mentor, and teacher with a lifelong interest in neuroscience," says his NRBSC colleague Markus Dittrich. "He started his career as an experimental researcher but quickly discovered the power and importance of computer simulations for the study of biological systems. Together with Tom Bartol he went on to become principal co-author of the MCell and DReAMM software tools which are now used in many laboratories worldwide to perform realistic simulations of the movement and reactions of molecules within and between cells. MCell simulations have contributed to better understanding of cellular physiology and disease."
Ralph Roskies, PSC co-scientific director, adds "Joel was one of those rare scientists who understood both medicine and advanced computing. He had a very broad vision of how powerful computing could advance personalized medicine. For his perspective and wisdom, NIH's National Center for Research Resources named him to their strategic Advisory Council. He also had a unique gift for presenting scientific ideas in a visually engaging way which conveyed new understanding to both high school students and to practicing scientists."
Along with his leadership role at PSC, Joel was an associate professor in the Mellon College of Science at Carnegie Mellon University and Lane Center of Computational Biology, and was a visiting adjunct professor in the University of Pittsburgh Departments of Neuroscience and Computational Biology.
Born in 1958 in Colorado, Joel received his B.A. (Human Biology, Magna Cum Laude, Phi Beta Kappa, 1980) from the University of Kansas, PhD in Physiology and M.D. from the University of Kansas School of Medicine (1990 and 1991). After that, he was a postdoctoral fellow and neurobiology research faculty member in Cornell University's Department of Neurobiology and Behavior until he joined PSC in 1999.
Joel is survived by his wife Helen and three children, Laura, Michelle and Kevin. In keeping with Joel's wishes, there will not be a viewing or funeral. Also in keeping with his wishes, a Celebration of Life in his honor will be held at Heinz Memorial Chapel, the University of Pittsburgh, on Friday, September 16, 11 a.m. A reception will immediately follow at the Pittsburgh Supercomputing Center.
Friends and associates may post messages at www.caringbridge.org/visit/jhstiles5