Dr. Deepak N. Pandya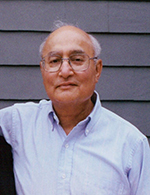 Together with Professors Jennifer Luebke, Chair of the Department of Anatomy and Neurobiology at Boston University School of Medicine (BUSM), and Kathy Rockland, Dr. Pandya's first post doc, BUSM is hosting a day of celebration of the work and influence of Deepak Pandya. His colleagues and trainees, including some of the leading figures in contemporary systems neuroscience, are coming together for a day of tribute and science.
Pandya Day Symposium
Thursday, June 15, 2023
9:00 AM to 5:00 PM Hybrid Event (registration required)
Please register using this link: Pandya Day Symposium Registration
---
Dr. Deepak N. Pandya of Needham, MA, Falmouth, MA, and Venice, FL, a world-renowned neuroanatomist whose studies of brain circuitry profoundly influenced the way we think about the brain in health and disease, died peacefully of natural causes on October 4th, 2020, surrounded by his family. He was 87.
Known affectionately as Dee, he was born in Jhulasan in Gujarat, India. He was orphaned at a young age, received scholarships for undergraduate and medical school education at the Gujarat University and eventually immigrated to the U.S.
Entranced by the emerging field of neuroscience, Dr. Pandya's career in neuroanatomy commenced at the Case Western Reserve University. With his wife and three children, he relocated to Needham, MA when he joined the Aphasia Research Center at the Boston Veterans Administration Medical Center and the Department of Anatomy and Neurology at Boston University School of Medicine. He then moved to the Neurological Unit of the Boston City Hospital where he established the neuroanatomy laboratory and taught at Harvard University and at Boston University where he became full professor. He later joined the faculty of Edith Nourse Rogers Memorial Veterans Hospital in Bedford as director of the neuroanatomy lab. While conducting ground-breaking research in neuroanatomy at the VA he continued to function as an internist, providing medical care to veterans, and his patients loved him.
Throughout his almost 6-decade career, in collaboration with an international who's who of neuroanatomical colleagues, many trained personally by him, Dr. Pandya focused his research investigations on the connections of the cerebral cortex, and more recently on the translation of these pathways into the human brain enabled by magnetic resonance imaging techniques. His studies provided deep insights into our understanding of the brain basis of behavior and laid the anatomical foundations for understanding and treatment of neurological and neuropsychiatric disease.
Dr. Pandya was meticulous about giving credit where it was due, while never clamoring for the credit that was rightly his for influencing, teaching, and guiding his mentees along the way. His major contributions to neuroscience were recognized by the Cajal Club's Cortical Discoverer Award in 1990. He published over 600 original papers, chapters, proceedings, abstracts and books, but he never sought the limelight or aspired to office in the many national and international academic societies of which he was an esteemed member. He reveled in exploring and uncovering the secrets of the brain, was moved by the beauty of the brain, and he remarked to his trainees on more than one occasion over the microscope that "all we are doing is trying to discover truth." He was also up for some mischief in adding cartoon character elements to his pencil annotations of cells or blood vessels.
Dr. Pandya provided compassionate care to his patients. He was generous, gentle, kind, and nurturing. His humility was deep and true, his modesty was genuine, and he was never heard to utter a harsh word. He brought a sense of humor to his day and to his work. He was the epitome of a gentleman scholar. He enjoyed his work, colleagues, and friends, and he in turn was revered and loved by his colleagues and trainees around the world.
Dr. Pandya loved and was devoted to his extended family. He leaves his wife of 60 years, Bonnie Zalokar Pandya; son Jay Pandya and his wife, Dr. Anna Radominska-Pandya; daughter Dina Pandya; daughter Sunita Williams, a NASA astronaut, and her husband, Mike Williams; grandchildren Panchei and Tilu Pandya; and many nieces and nephews.
In later years he loved the Shining Sea Bike Path; seeing the wildflowers, hearing the birdsong, and being close to the ocean reminded him of his Gujarat hometown of Mangrol. He was curious about the natural world, would go on organized walks, taking notes and samples to study, ever the consummate scientist and naturalist. He commissioned a special bench in memory of his sister Nilam and brother Navin to be installed on the bike path facing Vineyard Sound. A deeply spiritual man, Dr. Pandya would ride his bike to the bench after his morning exercise and meditate or read spiritual texts like the Bhagavad Gita. Along the way, he would meet his friends with whom he loved to converse. He continued this with new friends when walking around the Lilipuna loop in Kaneohe, Hawaii, at Village on the Lake in Houston, Texas, at Bella Vita in Venice, Florida and again on Davisville Road in Falmouth when spending time with Dina and his grandchildren.
Dr. Pandya loved to sail, a passion he learned at Community Boating in Boston and which he shared with his children. On weekends in Falmouth he could be found in his sailboat, Kool, on Siders Pond. He was a storyteller, not only to his students over the microscope and over lunch, but also to his children and grandchildren. On car rides to the family camping adventures he loved to tell stories of his childhood, and he would often be seen with the grandchildren around him, telling the Ramayana or Mahabaratha story. He had told these stories to his children Jay, Dina, and Suni, too, stories that solidified their connection to his cherished motherland India. He loved music, an eclectic mix of spiritual songs and tunes from Indian movies, as well as American songs - Bobby Darin was a favorite. He followed the news closely and made a habit of watching "60 Minutes" and "Mutual of Omaha's Wild Kingdom" with the family, leaving lasting impressions on family members, who remain news junkies and lovers of the natural world.
When he took his children to learn about his motherland India, he introduced them to his hometown and its spiritual places. He also introduced them to the birthplace of Mahatma Gandhi in Porbander, Gujarat, and showed them Mahatma Gandhi Ashram in Ahmedabad, where the great man studied and wrote. The family also visited Birla House in New Delhi, where Gandhi died. Dr. Pandya was a staunch follower of Gandhi, and like Gandhi, he lived a simple, powerful life. His enduring accomplishments will reverberate through the brain sciences in perpetuity because of the fundamental depth of his elegant discoveries - but for all that, he was in his deepest essence a gentle and spiritual person.
Dr. Pandya's ashes will be spread in the Narmada River, the lifeline of Madhya Pradesh and Gujarat, where he started and where he will complete his journey on earth. His many legacies live on, and his influence will continue to grow.
In lieu of flowers and donations, the Pandya family would like to ask that instead you do something nice for someone-a stranger or someone in need- once a month. Thank you