Charles Sawyer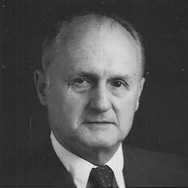 Dr. Charles H. "Tom" Sawyer, Distinguished Emeritus Professor of Neurobiology at the University of California, Los Angeles, passed away June 20, 2006 at the age of 91. He was a pioneer in the field of Neuroendocrinology, his work fostering our understanding of how the brain controls the pituitary gland and reproductive function. His research contributed significantly to the development of effective contraceptives and the management of infertility.
His scientific experimentation essentially started the intense study of monamines in neuroendocrine and general brain activity, still a major experimental thrust in neurobiology in terms of normal and pathological brain function. In his early electrophysiological experiments he was among the first researchers to describe REM sleep. Overall, as the hypothesis of the neural control of the pituitary gland became known, the field of Neuroendocrinology was born and Dr. Sawyer can be considered one of the most influential pioneers in this burgeoning field.
Dr. Sawyer was born in Ludlow, Vermont in 1915. He received an A.B. degree from Middlebury College (1937), was a Dutton Traveling Fellow at Cambridge University from 1937-1938 and received his Ph.D. degree with distinction in Zoology from Yale University in 1941. He married Ruth Schaeffer of Waterbury, Connecticut, another Middlebury biologist, in 1941. After two years as an Instructor in Anatomy at Stanford University (1941-1943) he joined the Anatomy Department at Duke University. During his stay there (1943-1951), he rose to the rank of Professor of Anatomy. In 1951 he was invited by Dr. H.W. Magoun to join his new Department of Anatomy at UCLA, where Dr. Sawyer gave the first lecture at the new UCLA School of Medicine. Dr. Sawyer was one of the founding members of the UCLA Brain Research Institute, and was chairman of the Department of Anatomy at UCLA from 1955-1963 and again in 1968. He served the Public Health Service as a member of the Fellowship Review Board in Pharmacology and Endocrinology and as a member of the Neurology Study Section A from 1963-1967. He was the chairman of the Anatomy Panel of the National Board of Medical Examiners in 1964, on the council of the Endocrine Society from 1968-1970, and a member of the board of directors of the Society for the Study of Reproduction from 1969-1971. He was a council member of the International Society of Neuroendocrinology and a 50 year member of the American Physiological Society. He was a charter member of the UCLA Deans Council in 1973, and won the UCLA Brain Research Institute Award in 1966. He received the prestigious Koch Award of the Endocrine Society in 1973, gave the first Geoffrey Harris Memorial Lecture at UCLA in 1974, received the UCLA Certificate of Teaching Excellence Award in 1976, and won the Hartman Award of the Society for the Study of Reproduction in 1978. He was elected to the prestigious National Academy of Science in the Physiology and Pharmacology section in 1980. Dr. Sawyer received the Award of Extraordinary Merit from the UCLA Medical Alumni Association in 1990.
During Dr. Sawyer's long research career he published 336 papers in distinguished medical journals and taught Gross Anatomy to medical students for close to 60 years. Of particular importance to the development of the UCLA Department of Anatomy, Dr. Sawyer received a Ford Foundation training grant which funded postdoctoral training in the Neuroendocrinology of reproduction. It is not an overstatement to conclude that almost every distinguished Neuroendocrinologist of that era either trained at UCLA or interacted with UCLA neuroendocrinologists. Part of Dr. Sawyer's legacy at UCLA is that fact that he initiated an interactive group of investigators studying and training in Neuroendocrinology. That legacy still exists in the Laboratory of Neuroendocrinology of the Brain Research Institute which remains at the forefront of research in the relationship between hormones and brain development and function.
Dr. Sawyer has been recognized for his scientific leadership, his research accomplishments, and his good humor and patience. He had a passion for classical music, particularly Mahler and Schubert, and was accomplished at the piano and organ. Finally, Dr. Sawyer fit the definition of a "gentleman" – sympathetic, open-minded and accessible.
He is survived by his wife of 64 years, Ruth Sawyer, his daughter, Dr. Joan Sawyer Steffan, who, inspired by her father, is an Assistant Professor in Residence at the University of California, Irvine, studying mechanisms of neurodegeneration in Huntington's Disease, his son-in-law Dr. William Steffan, a family physician, and two grandsons Joseph and Thomas Steffan. The Charles H. Sawyer Memorial Travel Fund has been set up through the UCLA Department of Neurobiology to support students and postdoctoral fellows travel to scientific meetings and conferences. In lieu of flowers, the family requests that donations be made to the Charles H. Sawyer Memorial Travel Fund. Checks should be made out to "UC Regents," and donations should be addressed to: Fred Hughes UCLA Department of Neurobiology Box 951763 Los Angeles, CA 90095-176.