Carol J. Phelps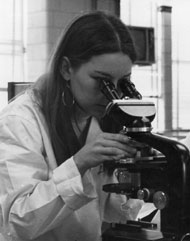 Dr. Carol J. Phelps, professor of structural and cellular biology at Tulane University School of Medicine, died peacefully in her sleep at home on Wednesday, Dec. 7, 2005, after a private battle with chronic obstructive pulmonary disease that embodied the phrase "the spirit is willing but the flesh is weak." She is survived by her two sons, Matt and John Turpen, from her first marriage and by her loving husband, David Hurley. By her request, there will be no memorial service. In lieu of flowers, please send donations in her name to: Girl Scouts of America, Habitat for Humanity, or Special Olympics.
Carol was born on April 20, 1948, in Sendai, Honshu, Occupied Japan. She was the only child of Colonel Harry J. Phelps and Helen Iva Davies Phelps. The family moved through military postings in Japan, Germany, Georgia, Colorado, North Carolina, Oklahoma and finally Illinois, where she graduated high school. Carol matriculated to the University of Denver and completed her B.S. in zoology in 1969. She was an active member of Kappa Delta sorority, forming lifelong friendships with her sisters. There she also met and married James B. Turpen. She entered doctoral training in anatomy at LSU Medical School in New Orleans with Dr. John Dunn and received her Ph.D. in 1974. Her son James Matthew was born there in the same year. She won a coveted National Institutes of Health postdoctoral research fellowship at the University of Rochester (NY) Medical Center from 1974 to 1976 in neuroendocrinology, where she established lifelong research collaborators and friendships. In 1976, the family moved to Pennsylvania State University, where her son John Alan was born in 1978. After her divorce, she reestablished her research at the University of Rochester Medical Center in the Department of Neurobiology and Anatomy, eventually obtaining two concurrent NIH grants for her work. She married David L. Hurley on Oct. 12, 1985. Carol moved to Tulane University School of Medicine in 1990, became Professor in 1994, and maintained her active NIH-funded research laboratory for 17 years through the time of her death. She published 50 research papers, primarily on the feedback effects of pituitary hormones on brain neurons using the dwarf mouse model that was her delight. Several papers were in preparation at the time of her death, a testimony to her dogged devotion to her work, and will be submitted posthumously.
Carol was an avid traveler and naturalist, journeying to the Virgin Islands, Galapagos, Kenya, Tanzania, South Africa, and especially Hawaii. These trips revealed that her biological interests were not just of the laboratory, but in the field. She was especially adept at game spotting, loved the unique animals that exist in Hawaii, and she took pride in identifying birds, compiling a list of over 100 species during one trip. She quipped that although her invisibility - due to small size and quiet manner - was frustrating professionally, it served her well in the avocation of wildlife observation because the animals didn't know she was there. She lived in London, UK, for 7 months on a research sabbatical in 2001, and thoroughly enjoyed being in this "proper" place. As well as visiting Rome and Paris, she saw Wales, her mother's beloved ancestral home, and was delighted to attend the gathering of the Morris Men in England. In all these travels, Carol delighted in being a citizen of the world and never ceased to want to find new experiences.
Carol embodied ferocious determination, perfectionism and passion in all her interests. She was a demanding mentor, a driven researcher and a loving mother and wife. Like her mother, Carol loved the meaningful and precise use of language, and she applied this rigid standard both to herself and to those with whom she worked. Her ability with words enabled much of her success with research manuscripts and proposals. She maintained the highest standards for her own work as well as that of others, although this trait occasionally drove some to despair. She was never mean-spirited, but simply was absolutely sure that there was a correct answer to every problem that should be sought. This devotion also guided her as a mentor for graduate students and research technicians who worked in her laboratory as well as for students in the classroom. She had a wide scope of professional output beyond her research production: she authored an essay on the importance of dissection in the medical curriculum, worked tirelessly to encourage women in neuroscience, and also had her photograph of flowing lava selected for publication in the book American Vision. Just prior to her death, she was in Hawaii and finally saw the endangered Nene geese in the wild at Volcano National Park. By her request, she will be cremated and the ashes placed by her sons and her husband in Hawaii.