William T Greenough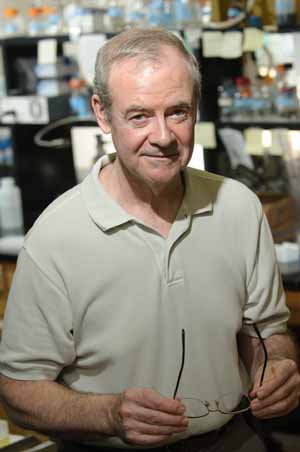 William T. Greenough, an emeritus professor of psychology at the University of Illinois and a pioneer in studies of brain development, the neural basis of learning and memory, and the effects of aging, exercise, injury and environmental enrichment on the brain, died in Seattle on December 18, 2013 of complications associated with Lewy Body Dementia at age 69. Greenough employed a number of techniques – from light and electron microscopy to electrophysiological and molecular approaches – to understand how the brain responded to a variety of influences. His work led to new insights into cellular plasticity throughout the lifespan and how those functions can go awry in conditions such as Fragile X syndrome, the most common cause of inherited mental impairment.
Greenough joined the U. of Illinois faculty in 1969 after obtaining a PhD in psychology at the University of California at Los Angeles. By the time he retired in 2009, he held a Swanlund Endowed Chair at Illinois and was a Center for Advanced Study professor of psychology, psychiatry, and cell and developmental biology. He had served as director of the Neuroscience Program, and he played a critical leadership role in the establishment of the multidisciplinary Beckman Institute for Advanced Science and Technology.
Greenough was elected to the National Academy of Sciences in 1992 and was named a Fellow of the American Academy of Arts and Sciences in 2006. He was a Fellow of the American Association for the Advancement of Science, a recipient of the American Psychological Society's William James Award, the APA's Distinguished Scientific Contribution Award, and the Society for Research into Child Development's Distinguished Scientific Contribution Award. He also received the Fragile X Foundation's William Rosen Award for Outstanding Research in 1998 and a National Institutes of Mental Health MERIT Award in 1989. He served as treasurer of the Society for Neuroscience (2003-2006). On campus, his commitment to mentoring undergraduates earned him the university's Oakley-Kunde Award for Excellence in Undergraduate Education.
Bill was known to his friends and family as a passionate sailor who also loved to ski. He is survived by his mother, Maryon; sister, Mary; brother, Tom; daughter, Jennifer; son-in-law, Jorge; and two grandchildren, Alejandro and Mateo.