Sabine Gruesser Sinopoli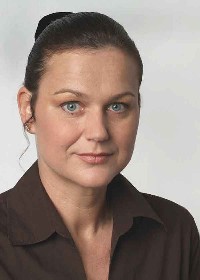 To our great sorrow, Prof. Sabine Gruesser-Sinopoli unexpectedly passed away on Jan. 3, 2008 at the age of 43 years. On Oct. 1, 2007 she accepted the call of the Johannes Gutenberg-University in Mainz, Germany, and she became Professor for Medical Psychology and Medical Sociology at the Clinic for Psychosomatic Medicine and Psychotherapy.
Prof. Gruesser-Sinopoli studied ethnology, psychology, prehistory and early history as well as medicine at the FU Berlin, where she completed her MA degree in 1993. After working as a researcher at the Institute for the Study of Drug Dependence in London, she was an assistant at the department of clinical psychology at the Humboldt University, Berlin where she earned her doctorate in 1997 with her dissertation on "The Relationship of Perceptual Phenomena and Cortical Recognition in Case of Unilateral Arm Amputation."
From 1998 on she continued her work as a university assistant in the research group "behavioral neuroscience" with Prof. Flor and completed her behavioral therapeutic training in addiction. From 2003 on she was a university assistant at the Institute for Medical Psychology of the Charité in Berlin, where she also served as deputy director of the director of institute, Prof. Rosemeier. She was the founder and director of the internationally renowned interdisciplinary addiction research group Berlin. In 2006 she completed her habilitation "Behavioral Explanatory Model of the Development and Maintenance of Addictive Behavior: Empirical Assessments of Craving ".
Her distinguished scientific work is characterized by a wide range of basic and applied research on alcohol, cannabis and opiate-dependence, pathological gambling, emotional learning and cortical plasticity. In her creative and far-sighted approach she combined experimental, behavioral, neuroscientific and clinical methods in an inventive manner. Thus she became a leading expert in the field of non-substance-related addiction, both nationally and internationally, a field that she extended to current topics such as computer game and internet dependence.
Translating basic research into prevention and intervention measures for persons afflicted from addictions was one of the major goals of Prof. Grüsser-Sinopoli. Extensive funding and high-ranking publications also attested to her creativity and her passionate scientific interest.
After she was appointed to the professorship at the Johannes Gutenberg-University, Prof. Grüsser-Sinopoli engaged intensively in developing medical psychology and medical sociology conceptually and structurally. She not only brought considerable research grants and project ideas to Mainz, she was also accompanied by a number of engaged co-workers laying the foundations for a center for behavioral addiction. Her work was ended abruptly with her sudden death. We are mourning with the family for an extraordinarily warm-hearted, generous, creative colleague and a dedicated researcher, teacher and clinician.
With the center of non-substance-related addiction, and the newly founded ambulance for gambling, computer and Internet addiction we will continue the work of Prof. Grüsser-Sinopoli and keep her memory.
- Prof. Manfred E. Beutel
Director of the Clinic for Psychosomatic Medicine and Psychotherapy
On behalf of the coworkers and colleagues of the Johannes Gutenberg-University, Mainz, Germany
In Remembrance
What a tragedy!! Sabine was a wonderful young woman, who although early in her research career had already made important contributions to her field. My affection and deepest sympathy to her husband Joe and to their young son Paolo and to her mother and other members of her family. Please let me know whether there will be any sort of memorial set up in her honor as I would very much like to contribute. - Ed Kravitz
It was my privilege to interview Sabine via telephone and a German film crew in 2007 regarding her work in the area of behavioral addictions. She was not only a brilliant woman, she had an exceptionally warm heart, a marvelous wit, and it was clear she truly cared about people. I am shocked by this loss and deeply saddened for her family.
We were blessed to have her. - Shavaun Scott
Sabine Gruesser-Sinopoli will always be remembered as an endearing and articulate woman. May Lord God Jesus Christ's love be with her and her family. - Michael C. Kantos