Ricardo Miledi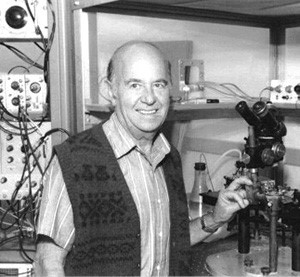 It is with sorrow that I inform you of the passing of our colleague, Distinguished Professor Ricardo Miledi FRS, who passed away on December 18, 2017. Professor Miledi's outstanding work on synaptic communication was influential in transforming the field of neuroscience into the fascinating field as we know it today.
Professor Miledi received his M.D. from the School of Medicine at the Universidad Nacional Autonoma de Mexico in 1955. After working with Sir. John Eccles in Camberra Australia, as a Visiting Fellow, Professor Miledi started a prolific collaboration with Sir. Bernard Katz in University College London that span 27 years. He joined the Department of Neurobiology and Behavior in 1984 where he continued to pursue his major passion: understand the inner workings of the synapse in health and disease. His research led him to contribute a long list of seminal findings and major conceptual advances that are now pillars in our understanding of how the brain works. The calcium theory of neurotransmitter release, the molecular mechanisms of supersensitivity and extrasynaptic receptors, the use of frog oocytes to study de novo expressed and native neurotransmitter receptors, and the demonstration of GABAr receptors are just some of his outstanding contributions. During his distinguished career he garnered many prestigious honors and accolades including the Principe de Asturias Prize, and election to the National Academy of Sciences, the American Academy of Arts and Sciences, and the Royal Society, to mention few.
He prepared many generations of bright scientists, that inspired by his full-week hard work, and daily scientific insight during chats at coffee time, are now leaders in academia and industry all over the world. His influence and legacy will continue to be felt for many years to come. Professor Miledi was a great friend and colleague, greeted everyone with a sincere smile and warm heart, and had an infectious desire to push the boundaries of our knowledge. He will be greatly missed.
Professor Miledi is survived by his wife Mela and his son Rico.