Peter Land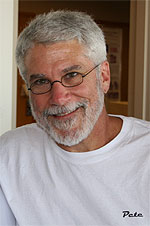 Peter W. Land, associate professor of neurobiology at the University of Pittsburgh, died of a heart attack Dec. 13, 2005. He was 56.
The Chicago native earned a PhD in anatomy in 1977 from the University of Illinois College of Medicine. From 1977-79 he was a senior fellow in biological structure at the University of Washington School of Medicine, and from 1979-83 an assistant professor in anatomy at the Medical University of South Carolina. In 1983, he went to Pitt as an assistant professor in the Department of Anatomy and Cell Biology.
In 1988, Land was named associate professor in the Department of Neurobiology, Anatomy and Cell Science and in 1993 became a member of the newly formed Department of Neurobiology.
Longtime research collaborator Daniel Simons described Land as "a colorful and talented individual with numerous and varied interests, including long-distance running, cooking, wine- and beer-making, and sky-diving" as well as "an excellent neuroanatomy instructor who received a number of honors and recognitions from the School of Medicine."
Land suffered a serious accident while sky-diving in 1999, which resulted in the loss of a leg. "Following a remarkable recovery, he entered the most productive period of his scientific career," Simons said.
Throughout his research career, Land investigated how the brain attains its complex structure and, related to that, how sensory activity influences the developing nervous system. His early work examined the connections from the eye to the brain.
Land authored or co-authored more than 60 publications. Among his early papers was a landmark 1979 study published in Science describing previously unrecognized patterns of early connections and novel ways in which projections from the two eyes interacted with each other.
For the past 20 years, Land continued to pursue his interests in sensory systems and neural development, focusing on the sense of touch, using rodents and their facial whiskers as the experimental model.
Working with Simons, Land discovered that brain development was altered permanently as a result of abnormal tactile experience produced simply by shaving the animal's facial whiskers during brief periods of early postnatal life. That work led to a number of important studies by Land examining in detail the complex, three-dimensional geometry of the brain structures involved and how they developed.
More recently, Land had been investigating molecular mechanisms involved in zinc-dependent neuronal degeneration. In recognition of his contributions, the International Zinc Signals 2006 meeting in Tuscany, Italy, will be held in Land's honor.
Land held professional membership in SfN and the American Association for the Advancement of Science. He also participated in more than a dozen national and international seminars and invited lectureships.
Land is survived by partner and co-worker Susan Erickson; son Joshua of Philadelphia; Pa.; daughter Rebekah of Baltimore, Md.; father Donald; brothers Steven, Mark, Paul and Kurt; sister Rita McClean; and nieces and a nephew.
Memorial contributions may be made to the American Cancer Society in memory of Land's mother, Rita Land.
In Memoriam
I knew Pete thru Mark Suardi at Illinois. We always had a great time and alot of good memories. I'm very sorry to hear of his passing, he was a great man and a friend in over the four years at school. I just wish we had stayed in contact. You had a wonderful father and I know he'll be missed. I'm sorry I didn't know about this sooner. My prayers are with you and your father.....GOD BLESS. -Tom Barz