Lennart Heimer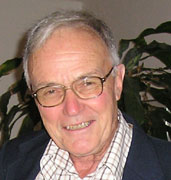 Lennart Heimer, M.D., eminent Swedish-American scientist, scholar and medical educator, working since 1972 at the University of Virginia, died at his home in Trevilians, VA, on March 12 at the age of 77.
Born in the town of Östersund in central Sweden on March 11, 1930, Lennart was the son of Gösta Heimer and Rakel (Karlstedt) Heimer. As a young man, he had a passion for sports, excelling at soccer, track and field, and, particularly, alpine skiing. Twice Swedish junior champion in slalom, he placed third in the national championships in his first adult competition and qualified for the Swedish Olympic team.
Upon completing training in medicine at the University of Gothenburg, Dr. Heimer was recruited in 1965 to the Department of Psychology and Brain Science of the Massachusetts Institute of Technology. He had developed what at the time was the most sensitive silver method to map the pathways of nerve fibers in the brain and soon formulated revolutionary new concepts about the basic organization and connectivity of brain structures that regulate emotions and motivation.
Concepts conceived in his laboratory have served for more than 30 years to energize inquiry in the basic and clinical neurosciences in subdisciplines ranging from drug abuse research to neuropsychiatry. Dr. Heimer's early work is widely recognized as providing the conceptual basis for the subsequent elaboration of "segregated, parallel cortico-subcortical reentrant pathways", which are presently utilized as surgical and pharmacotherapeutic targets in the treatment of diverse neurological and neuropsychiatric brain conditions, from Parkinson's disease to drug abuse to obsessive-compulsive disorder.
Dr. Heimer served for many years on the editorial boards of the The Journal of Comparative Neurology and Neuroscience. His series of books on experimental neuroanatomical methods is a standard reference among working neuroscientists. He also harbored an indefatigable commitment to medical education in the neurosciences. Both editions of his textbook for medical students, The Human Brain and Spinal Cord-Functional Neuroanatomy and Dissection Guide, are regarded as among the most lucid available accounts of this difficult subject. His acclaimed series of teaching videotapes and DVDs demonstrating the prosected human brain, which emerged out of now locally legendary sessions with neurology and neurosurgery residents at the University of Virginia, have been acquired by generations of students, neuroscientists and clinicians. He was vigorously pursued throughout his career as a lecturer in university, clinic and workshop settings worldwide. Retiring from the research laboratory several years ago, he continued to teach, write and speak, and, at the time of his death, had a full lecture and workshop schedule planned for the coming year. His students and colleagues will always remember Lennart's kind, gentle and encouraging spirit and, hopefully, also his steadfast conviction that knowledge of the neuroanatomical organization of brain is central to understanding its functions and disorders.
Dr. Heimer is survived by his wife, Hanne-Bjørg Heimer; sons Hakon, Mikael, Gösta, and Knut Lennart Heimer; and four grandchildren; as well as by sisters Gudrun Strandberg and Bodil Karlén of Sweden.
In Remembrance
I just read the obituary about Lennart and I will not only say that he will be missed, but that some of us still carry on his traditions. He may be most known for the Fink-Heimer stain, but Lennart was one of the greatest dissectors of the human nervous system the world has known. I was fortunate to be mentored on brain dissection by Lennart while I was a graduate student at the University of Virginia (1979-1984). If you think you are a good dissector, you never witnessed one of his dissections. - Rick Segal
Dr. Heimer was my neuroanatomy teacher at the University of Puerto Rico School of Medicine. I was fortunate to get a consultation from him during an SfN meeting on the neuroanatomy of the limbic system. His books and articles have been a source of inspiration in my interest and my teaching on the neuroanatomy of mental disorders. I share with his other students the view of him as a kind, gentle and encouraging spirit. - Ricardo M. Vela, MD