James G. McElligott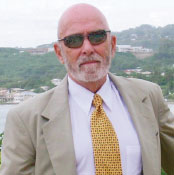 James G. McElligott, Professor of Pharmacology at Temple University School of Medicine, died on Feb. 20, 2007 at the age of 68 following a yearlong battle with metastatic melanoma. During his 35-year tenure at Temple, he was an exceptionally dedicated faculty member whose extensive responsibilities included teaching, research, service, and diversified scholarship activities. Not only did he teach pharmacology courses in the medical, dental and podiatry School, but he was also remarkably active in directing the Science Research Program for Underrepresented Ethnic Groups and Women. He served numerous tours as course director for the pharmacology and neuroscience graduate programs and mentored many now professionally successful pre-and post-doctoral students.
McElligott was born and raised in The Bronx, New York, earning a BS in physics at Fordham University and an MA in psychology at Columbia University. In 1966 he completed a PhD in psychology at McGill University in the laboratory of Ronald Melzack and conducted his postdoctoral training with W. Ross Adey at the UCLA Brain Research Institute in Los Angeles before joining the faculty at Temple in 1971. He was a pioneer in developing chronic microelectrode techniques for neurophysiological studies in alert behaving mammals. In particular, his timely entry into the then new field of neuroscience included novel cutting edge usage of computer assisted systems for acquisition, processing and correlation of neural spike trains largely recorded in the brainstem and cerebellum and accompanying locomotion. This focus quickly changed to the oculomotor system because of its conspicuous quantitative appeal at both structural and functional levels where he became quite interested in exploring the role of monoamines in cerebellar function. Impressed by the ability to directly visualize the vestibulocerebellum in goldfish, he spent the past 15 years devising and exploiting microdialysis probes to study cerebellar plasticity of vestibuloocular reflexes. McElligott was a dedicated self-sufficient lab scientist who made meaningful contributions to the general field of motor control that extended from instrumentation to argument as evidenced in his list of many publications and numerous NIH/NSF awards. He frequently served as a reviewer for grants as well as for scientific journals.
McElligott is survived by his wife of 39 years, Sandra, also a neuroscientist, their son Sean and his wife Jill together with grandson Declan. McElligott was forcefully independent in every energetic pursuit, both at work and in recreation, which included skiing, scuba diving, running, bicycling, parachuting and hang-gliding. His family and colleagues, including lifelong friends from high school through university all over the world, will miss his warm, outgoing personality and truly rare fondness for life and nature, which was apparent in everything he did.
In Remembrance
I first met Jim McElligott at SFN in 1982, when my graduate supervisor introduced us. At that first meeting, while we discussed our contradictory findings, Jim impressed me enormously with his kindness and humility. In subsequent years, his supportive attitude toward a young female student/postdoc/junior faculty in a male-dominated field really resonated and helped me to get through many difficult periods. In Jim's death we have lost an unusually compassionate human being, as well as a very creative scientist. -Dianne Broussard