Howard S Hoffman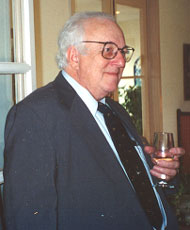 Howard S. Hoffman, scientist, musician, artist, and author, died Aug. 31, 2006, of kidney failure at his home in Haverford, Penn. He made many contributions to the field of behavioral neuroscience but is probably best known for popularizing the study of the startle reflex. He was a mentor and friend to many colleagues and generations of students, and will be greatly missed by all.
Born in New York City, Hoffman enlisted in the Army after high school and saw combat in Europe during World War II. In 1945 he entered the University of Chicago to study physics. While there he received a gift of a set of oil paints from his brother and discovered a love for painting. He left Chicago to study art at the New School for Social Research in New York City.
As a part-time teacher's assistant in a nursery school, he became curious about influences on children's behavior and added a second major, psychology. Hoffman graduated from the New School in 1952 and received a master's degree in psychology from Brooklyn College in 1953. He completed his dissertation on speech perception in 1957 with Alvin Liberman at the University of Connecticut. He joined Pennsylvania State University's faculty in 1957. In 1970, he joined Bryn Mawr College's faculty and remained there until his retirement in 1991.
While at Penn State, Hoffman studied conditioned suppression in pigeons and approach/avoidance behavior in rats. He also began his research on the startle reflex. Hoffman was the first to use the term prepulse, and with that paradigm assessed sensory functioning in rats, pigeons, and humans, continuing his work into the 1980s. His testing procedures are now ubiquitous, used by researchers in sensory processing, psychopharmacology, and psychiatry.
Hoffman also contributed to developmental psychology, finding an innovative way to study imprinting. He trained ducklings to follow an electric train "mother," the first object the hatchlings saw. He demonstrated that the train could act as a reinforcer, and developed a theory explaining imprinting's underlying processes. This work is detailed in his book, Amorous Turkeys and Addicted Ducklings: A Search for the Causes of Social Attachment.
Hoffman also studied the permanence of memory, in collaboration with his wife, Alice, an oral historian. The resulting book, Archives of Memory: A Soldier Recalls World War II, describes "archival memory," memories so powerful that they are remembered throughout life. He was an accomplished folk and flamenco guitarist and a skilled artist. He taught an innovative sensation and perception course based on his knowledge of art, and wrote a book, Vision and the Art of Drawing.
Hoffman is survived by his wife and two sons, Daniel and Russell, his daughter Martha Ingel, his stepchildren Gwen Harvey and Franklin Russell, two brothers, and his first wife, Dorothy Tennov. His son Randall died of leukemia in 1993.
Hoffman was an enthusiastic, supportive teacher, always ready with praise for his students. He was a creative, enthusiastic scientist and a wonderful man who will be long remembered by all who knew him.