Elena A Kharlamov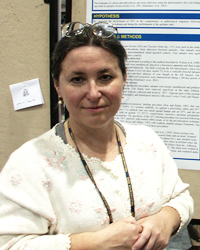 Elena A. Kharlamov passed away on January 15, 2013 in Pittsburgh, Pa at the age of 55. She leaves behind her husband of 28 years Alexander, twin daughters Anna and Anastasia, sister Tatyana, and niece Ekaterina.
Elena was born in Moscow, Russia on March 6, 1957 and conferred her pharmacy degree with summa cum laude honors in 1981. She moved to United States in 1991 and started her career as a scientific volunteer at National Institute of Mental Health in Bethesda, Md. In 1994 Elena began working at Allegheny-Singer Research Institute, Allegheny General Hospital, Pittsburgh, Pa where she completed her postdoctoral training and became assistant professor in Neurology in 2009.
Elena's research focused on posttraumatic epilepsy using experimental animal models of brain injury such as photothrombosis, middle cerebral artery occlusion, and traumatic brain injury by a controlled cortical impact. Her professional aptitude, high enthusiasm, and diligence resulted in numerous peer-reviewed publications. Moreover, Elena generously offered her time to help others. She was always motivated to advance her field of study and contribute to the career advancement of her colleagues.
Elena will be deeply missed by her relatives and fellow employees. Her contributions to the medical field and community will always be cherished.