Carl Kupfer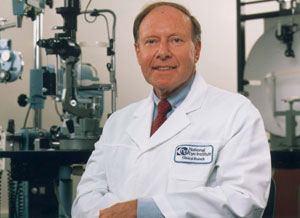 Dr. Carl Kupfer, who served as director of the National Eye Institute (NEI) for 30 years, died on April 7 after a long illness. He was 83.
Dr. Kupfer was appointed the first director of NEI in 1970 after the Institute was established by Congress. He was also director of the Fogarty International Center at NIH in 1988. In his time at NEI, Dr. Kupfer served under six NIH directors and six U.S. presidents. He witnessed the NEI budget grow from $24 million in 1970 to more than $450 million in 2000.
Reflecting on Dr. Kupfer's long and productive career, current NEI director Dr. Paul Sieving said, "Creating an NIH institute from whole cloth is a daunting task. But Carl had a vision for the NEI and, persevered to make it a reality. He was one of the first NIH directors to implement strategic planning and much of the Institute's guiding principles were codified in those early plans. He was dedicated to clinical research and the development of clinician scientists. He believed in the primacy of investigator-initiated research and made RO1 grants a major part of the NEI research portfolio. The NEI and the vision research community are a lasting legacy of Carl's 30 years of service.
Dr. Kupfer stepped down as NEI director in 2000 at the age of 72 but remained active in vision research by compiling the Cogan Collection, a series of clinical cases and pathology reports of more than 50,000 patients in honor of his late colleague Dr. David Cogan, a world renowned ophthalmologist. He also authored the History of the National Eye Institute, 1968-2000, which chronicled the inception of the Institute and its growth during his tenure.
When he stepped down, Dr. Kupfer said, "My journey at the NEI and the NIH has been richly rewarding. As a scientist, clinician, and administrator, I have been wonderfully blessed with experiences that have brought me to the cutting-edge of vision research. One of my most satisfying achievements has been helping to shape the direction of this research during the past 30 years. We have seen great advances in treating eye disease and preventing vision loss, and as a researcher, it is immensely fulfilling to know that the sight-saving treatments we developed have helped prolong vision and improved people's quality of life.
Dr. Kupfer supported public health outreach and oversaw the development of the National Eye Health Education Program, a partnership of professional, civic and volunteer organizations as well as government agencies dedicated to educating the public and professionals about eye health. Kupfer referred to NEHEP as a crucial bench-to-bedside project, serving as "a natural extension of our activities in vision research" and "the final step in the research process." He was also an outstanding clinician and had a regular practice throughout his career.
His presence in the international ophthalmology community led to numerous appointments, including membership on the Helen Keller International Board of Trustees, chairman of the Projects and Priorities Committee of the International Agency for the Prevention of Blindness, coordinator for the U.S.-Japan Collaborative Agreement in Vision Research, and director of the World Health Organization Collaborating Center for the Prevention of Blindness at the NEI. As president of the International Agency for the Prevention of Blindness from 1982 to 1990, he increased collaboration among non-governmental organizations involved with blindness prevention with the World Health Organization.
The Kupfer Award from the Association for Research in Vision and Ophthalmology was named in his honor and awarded to him in 1993, for his honorable public service on behalf of eye and vision research. In 1997, the Pan American Association of Ophthalmology Carl Kupfer Award for Prevention of Blindness was established in his honor to recognize efforts to increase eye care access for poor and underserved communities.
Dr. Kupfer was born in Brooklyn in 1928. He earned his undergraduate degree from Yale University in 1948 and his medical degree in 1952 from The Johns Hopkins School of Medicine in Baltimore. After completing his internship and assistant residency at the Wilmer Eye Institute at Johns Hopkins Hospital, he served in the United States Air Force for two years before returning to the laboratory as a research fellow in ophthalmology at both the Wilmer Eye Institute and Harvard Medical School.
Dr. Kupfer is predeceased by his wife, Muriel "Kim" Isolde Kaiser-Kupfer, M.D., a former chief of the NEI Ophthalmic Genetics and Visual Function Branch, his children Charles and Sarah, and grandchildren.
Ed McManus, the former NEI deputy director, said, "Carl was a giant among ophthalmologists," McManus said. "His leadership skills in biomedical research were unsurpassed, and he served as an outstanding example for the vision community with his dedication to improving the lives of the blind and visually impaired worldwide."