Bart Hoebel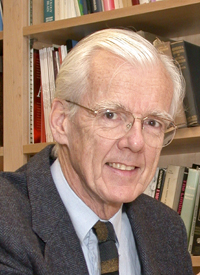 Bart Hoebel, a Princeton professor of psychology and the Princeton Neuroscience Institute internationally known for his research on food addiction, died of cancer Saturday, June 11, in Princeton. He was 76.
A member of the Princeton faculty since 1963, Hoebel's interest in understanding how the brain rewards behavior encompassed a breadth of research and led to discoveries in the areas of eating disorders and obesity, addiction, alcohol consumption and depression. He pioneered studies into the mental rewards of eating, and his research on sugar addiction in rats generated worldwide attention for its possible public health applications.
"His studies on food addiction led to the development of a new subfield and a novel approach to studying the obesity epidemic," said Nicole Avena, a visiting assistant professor of psychology at Princeton and a research assistant professor of psychiatry at the University of Florida. "The work Bart produced has been influential on many other scientists," added Avena. "He aimed to understand brain mechanisms that drive us to engage in certain types of behavior, like eating, and those findings really laid the groundwork for future research."
Deborah Prentice, the Alexander Stewart 1886 Professor of Psychology and chair of the Department of Psychology at Princeton, said Hoebel equally influenced scientists and students. "His research is important, of course, but what impressed me most about Bart was his dedication to students," Prentice said. "He was a gifted mentor, with a real passion for training young scientists, and the work of his lab is ongoing even after his death -- just as he would have wanted." In recent years, Hoebel's lab led research demonstrating that sugar can be an addictive substance, causing changes in the brains and behaviors of rats similar to many drugs of abuse, such as cocaine, morphine and nicotine.
Sarah Leibowitz, a longtime collaborator of Hoebel's and an associate professor at Rockefeller University, said Hoebel was a leader in studying the neural basis for feeding and reward. Some of his earlier research included examinations of how animals regulate their body weight and the neural pathways and neurochemicals involved with motivation. "Bart was very creative and always tried to come up with original ideas. He wanted to come out with something that paved the way for new areas of research," said Leibowitz, who is editing an upcoming issue of the journal Physiology & Behavior in which various scientists have written about Hoebel's influence on their work.
Beyond his research, Hoebel was a gracious mentor to colleagues and students, his peers said.
" He loved teaching and was dedicated to teaching undergraduates -- not just getting up there and lecturing in class, but training young people to be scientists and really caring about the outcomes of their lives," said Barry Jacobs, professor of psychology and the Princeton Neuroscience Institute.
Outside of the lab, Hoebel was described by colleagues as a "renaissance man" whose generosity and sense of adventure included hobbies such as hot air ballooning, Christmas tree farming and building a steam calliope into an antique fire truck to drive in parades. He also ran a nonprofit organization, the Delaware River Steamboat Floating Classroom, where students and groups experience interactive ecology lessons on board a replica of an 1880 sternwheeler on the Delaware River.
Hoebel was born May 29, 1935, in New York City. He earned his undergraduate degree in psychology from Harvard in 1957 and his PhD in 1962 in physiological psychology from the University of Pennsylvania, where he also worked as a postdoctoral fellow and instructor before joining the Princeton faculty.