Thomas V. Dunwiddie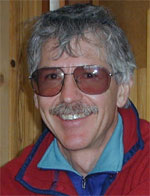 Tom was a Professor in the Department of Pharmacology and the Program in Neuroscience at the University of Colorado Health Sciences Center in Denver. He completed his undergraduate work at the University of Wisconsin at Madison and received his Ph.D. in Psychobiology from the University of California at Irvine in 1977. He then joined the Department of Pharmacology at the University of Colorado Health Sciences Center, where he spent the rest of his professional career. He was promoted to full Professor in 1990 and had been a Research Career Scientist at the VA since 1994.
Tom was a dedicated and accomplished scientist, internationally recognized for his work on the modulation of synaptic transmission by adenosine, alcohol, and nicotine. In all these areas he made significant and lasting contributions. He ran a highly productive research laboratory, which was well set for important work during the next several years. He was a familiar face at national and international scientific meetings, symposia, and review committees. He made important contributions to both pharmacology and neuroscience, and yet was always available to his many students, friends, and colleagues who needed his time and sage advice. He had an uncommon belief in the abilities of his fellow humans.
Those of us who knew Tom will miss his tremendous enthusiasm for life, his infectious grin and positive attitude, and his deep love and respect for both science and his fellow scientists. Tom was an outstanding scientist, an avid outdoorsman, a valued colleague, and a good friend. There was never a slow moment in Tom´s life. His absence leaves a void in our community, and in our hearts. Tom is survived by his wife Nancy Zahniser, in addition to his family and his many friends, students, postdoctoral fellows, and colleagues. A memorial service was held in Denver on Friday, July 27, 2001. The UCHSC is establishing a graduate student fund in Tom's honor, and appropriately designated checks made out to "UCHSC" can be sent to The Dunwiddie Fellowship Fund, c/o Boris Tabakoff, PhD, Department of Pharmacology, Box C236, 4200 East Ninth Avenue, Denver, CO 80262.