Sandra Boye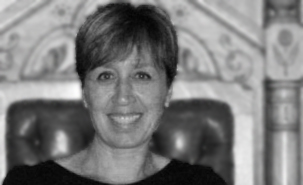 Original obituary in French. English translation below.
Sandra Boye, professeure sous octroi agrégée au Département de neurosciences, était une femme sans demi-mesure, passionnée et directe. Intransigeante avec l'injustice, ses élans naissaient de l'idéalisme qui l'habitait. Native de l'Uruguay et immigrée au Canada lorsqu'encore enfant, elle souhaitait améliorer son espagnol et s'adonnait avec humour à l'apprentissage de nouveaux mots avec une collègue hispanophone.
Ses travaux sur les neurosciences comportementales et la neuropsychopharmacologie visaient, entre autres, la compréhension de l'interaction des antidépresseurs avec leurs cibles centrales. Spécialiste du volet comportemental des mécanismes de récompense du cerveau, elle a réussi à traverser les frontières parfois étanches des savoirs en s'associant avec des spécialistes des volets biochimiques et moléculaires de ces mécanismes. Dans son enseignement et son travail avec les étudiants, Sandra Boye insistait pour transmettre non seulement des connaissances, mais aussi des capacités professionnelles et des compétences organisationnelles. Ses collègues évoquent tous la même anecdote : celle d'une étudiante aux prises avec des difficultés à rédiger des comptes rendus et qui, semaine après semaine, a bénéficié de l'appui soutenu de Sandra Boye. "À la fin du trimestre, l'étudiante avait fait des progrès spectaculaires. Elle a poursuivi ses études et fini par obtenir une bourse de doctorat. Ça, c'était Sandra!", rappelle Graciela Pineyro, professeure au Département de psychiatrie.
Sandra Boye est décédée le 18 avril 2014.
Les grands moments de la carrière de Sandra Boye
1997 Obtention d'un Ph.D. en psychologie de l'Université Concordia 1998 Début d'un stage postdoctoral en neuropharmacologie à l'Université McGill 2000 Chercheuse au Centre de recherche Fernand-Seguin de l'Hôpital Louis-H. Lafontaine, où elle travaillera pendant dix ans 2010 Nommée professeure au Département de psychiatrie de la Faculté de médecine 2012 Se joint au nouveau Département de neurosciences Des professeurs du Département de psychiatrie témoignent
"Sandra Boye était une chercheuse passionnée et déterminée, une scientifique avec un grand "S". Les mots qui la caractérisent le mieux sont certainement rigueur et intégrité. Elle était également un mentor exceptionnel pour ses étudiants des cycles supérieurs. Bon nombre d'étudiants d'autres laboratoires n'hésitaient pas à lui demander conseil puisque sa porte était toujours ouverte." – Pierre-Paul Rompré
"Je l'ai connue au Comité des études supérieures du Département. Nous avions un parcours similaire en tant que chercheuses au sein d'un département clinique. Mais c'est surtout la similitude de nos valeurs qui nous a rapprochées. L'encadrement des étudiants était pour elle une priorité, et elle avait une réelle vocation pour l'enseignement." – Marie Dumont
"Sandra insistait pour ne pas distribuer ses notes de cours au préalable, au grand dam des étudiants qui la qualifiaient d'enseignante exigeante et stricte. Il n'en demeure pas moins qu'à la fin de son dernier cours de psychopharmacologie, à l'automne 2012, les étudiants n'ont pas pu s'empêcher de l'applaudir. Et c'est plutôt inhabituel que les étudiants applaudissent leur professeur à la fin du trimestre!" – Graciela Pineyro
---
English Translation:
Sandra Boye, Professorial Fellow Associate Professor, Department of Neuroscience, University of Montreal, was a woman without half measures. She was passionate and direct. Uncompromising with injustice, her impulses were born of her idealism. She was a native of Uruguay and immigrated to Canada as a child. She wanted to improve her Spanish, so, with humor, she indulged in learning new words with a Spanish-speaking colleague.
Her work in behavioral neuroscience and neuropsychopharmacology focused on understanding the interaction of antidepressants with their central targets. As a specialist in the behavioral aspects of reward mechanisms in the brain, she was able to transcend borders, sometimes obtaining otherwise off-limits information, by collaborating with specialists in biochemical and molecular aspects of these mechanisms.
In her teaching and working with students, Sandra Boye insisted on relaying not only knowledge, but also professional and organizational skills. All colleagues told the same story: A student, who struggled, week after week, with writing reports, benefited from the continued support of Sandra Boye. "At the end of the quarter, the student made spectacular progress. Then, the student would go on to continue her studies and end up getting a doctoral fellowship. That was Sandra!" said Graciela Pineyro, professor in the Department of Psychiatry.
Sandra Boye died April 18, 2014.
The Highlights of Sandra Boye's Career:
1997 Obtained a Ph.D. in Psychology from Concordia University
1998 Started a postdoctoral fellowship in neuropharmacology at McGill University
2000 Became a researcher at the Centre de Recherche Fernand-Seguin Louis-H. Lafontaine, where she worked for ten years
2010 Appointed Professor, Department of Psychiatry, Faculty of Medicine
2012 Joined the new Department of Neuroscience at the University of Montreal
Professors of Psychiatry Testify
"Sandra Boye was a passionate and determined researcher; a scientist with a big "S." The words that best characterize her are certainly rigor and integrity. She was also an outstanding mentor to her graduate students. Many students from other laboratories did not hesitate to ask her for advice because her door was always open." - Pierre-Paul Rompré
"I knew the Graduate Studies Committee of the Department. We had a similar path as researchers in a clinical department. However, it was especially the similarity of our values ​​that brought us together. Supervising students was a priority for her and she had a real vocation for teaching."- Marie Dumont
"Sandra insisted on not distributing her course notes in advance, to the chagrin of students, who regarded her as a strict and demanding teacher. By the end of her last psychopharmacology lecture, in the fall of 2012, students could not help but applaud. And, it is rather unusual that students clapped for their teacher at the end of the quarter!"- Graciela Pineyro