Jerry J. Buccafusco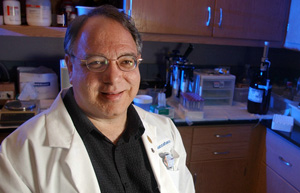 Dr. Jerry Joseph Buccafusco passed away peacefully at home surrounded by his family on March 6, 2010. He was a beloved husband, father, and friend and an internationally renowned researcher at the Medical College of Georgia and the Veterans Affairs Administration Hospital. "Dr. B.," as he was known to many, was born on August 20th, 1949 in Jersey City, NJ to Dominick and Rose Buccafusco. He was educated in Jersey City public schools, and his scientific career began with a chemistry set in his father's basement.
He attended St. Peter's College, graduating with a degree in Chemistry in 1971. He then received a Master's degree from Canisius College and a PhD in Pharmacology from the University of Medicine and Dentistry of New Jersey in 1978. During graduate school, he married Regina Neilan, a long-time friend, because, according to her, his car broke down and he needed transportation. In 1979, Jerry and Regina moved to Martinez, GA when he was offered a professorship in the Pharmacology department at MCG. Over the next thirty years, Dr. B. was appointed director of the Neuropharmacology Laboratory at the VA, and he was the founder and director of both the Alzheimer's Research Center and the Animal Behavior Center at MCG. His research, which comprises more than 200 peer-reviewed articles in scientific journals and four edited books, has made significant contributions to a variety of fields, including hypertension, drug abuse, Gulf War Syndrome, and Alzheimer's Disease. In addition, he served as editor of the Journal of Pharmacology and Experimental Therapeutics and various other scientific journals, as well as the chair of a National Institutes of Health study section on drug development research. For this work, Dr. B. received numerous national and international awards, most recently the Distinguished Alumnus Award from UMDNJ and the ASPET Award for Experimental Therapeutics. Last year he was appointed Regents' Professor of the University of Georgia System, and only days before his passing, he was awarded a multi-year, multi-million dollar research grant from the National Institutes of Health.
Dr. B.'s influence will live on in the work of numerous graduate students and post- doctoral fellows that he mentored who now serve in prestigious positions throughout the world. No doubt his proudest legacy, however, is his relationship with his family. Dr. B's wife, Regina, has been a member of the Columbia County Board of Education since 1998 and its Chairman since 2008. Their eldest son, Chris, was born in 1979 and is now a law professor in Chicago. Marty, born in 1982, is a filmmaker in New York City. He completed his first feature film last year. Their honorary "third son," Seth Otey, lives in Las Vegas. Dr. B. coached many of their youth sports teams, and he and Regina twice coached Marty's Odyssey of the Mind teams to the World Finals. In 1994, the Buccafuscos were named the Family of the Year by the Augusta Junior Women's Club. Jerry and Regina always maintained an open door policy for the neighborhood children, with "neighborhood" used very broadly.
In addition to filling in for touch football games, Dr. B. was a trusted confidant, mentor, and inspiration to many young people. He was always happy to take time to show off his comic book collection or to introduce friends to the wonders of Dr. Who. In addition to his wife and children, Dr. B. is survived by his mother Rose Buccafusco, two brothers John & Dominick Buccafusco, a sister Roseanne Farrell, and many sister-in-laws, a brother-in-law and nieces and nephews. He is predeceased by his father Dominick Buccafusco.
As published in the Augusta Chronicle:
http://chronicle.augusta.com/obituaries/2010-03-07/jerry-joseph-buccafusco-evans-ga