Hiroshi Asanuma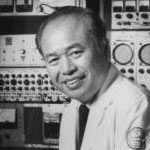 Hiroshi Asanuma, professor emeritus at The Rockefeller University, died of pulmonary fibrosis on August 4, 2000 at his home in New York City. He was 73 years old.
Asanuma received his MD from Keio University in Tokyo, but spent much of his career in the United States. He first worked at the Rockefeller University as a Rockefeller University Fellow from 1961-1963. He subsequently held faculty appointments at Osaka University and then at New York Medical College, before returning to The Rockefeller University as Professor in 1972.
Starting in the 1950s, Asanuma focused his work on studies of the control of voluntary movement by the primary motor cortex. In the late 60's, Asanuma developed the technique of intracortical microstimulation and used it to dissect how the primary motor cortex controls individual muscle contractions to generate skilled movements.
In the '70s, Asanuma discovered that information generated in sensory receptors (in muscles, skin, and joints) during movement are sent back to the same neurons in the motor cortex that generated the movement. This discovery of 'closed-loop' feedback information from the moving limb was an important advance in our understanding of the control of movement.
In the '80s and '90s, Asanuma conducted studies on brain plasticity and motor learning, where he showed that plastic rearrangements can take place in the motor cortex, not only after brain injury but also during the acquisition of new motor skills. His work was started when such rearrangements were not commonly recognized, and was of tremendous interest.
Asanuma is well known for his technical expertise, innovation, and for his careful attention to detail, both in experimental design and execution that enabled him to derive conclusive results. He was a hands-on experimenter up until his retirement a few years ago. Asanuma was highly respected by his colleagues and greatly admired by the dozens of trainees who passed through his lab over the years. After his retirement, he remained an active faculty member until his illness overtook him this past summer.
Asanuma is survived by his wife Reiko, two daughters, Chiiko Asanuma and Mari Asanuma, and four grandchildren. A funeral service was held on August 9, 2000 at the Frank E. Campbell Funeral House in New York City.
A donation in Hiroshi Asanuma's memory may be made to The Rockefeller University's Graduate Program (c/o Marnie Imhoff, Development Office, Box 164, The Rockefeller University, 1230 York Avenue, New York, N.Y. 10021). Please indicate that your donation is in memory of Dr. Asanuma.