Harriet Diane Baker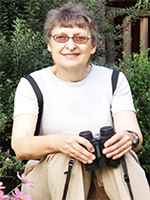 Harriet Diane Baker, 82, of White Plains, NY peacefully passed away on May 10, 2023, in her home surrounded by family and loved ones. She was predeceased by her mother and father, Celia and Benjamin Arons and is survived by her beloved husband of 60 years, Robert Baker, daughter Jessica Baker and spouse Edward Elefterion, daughter Lisa D'Alessandro and spouse Gregg D'Alessandro and grandchildren, Nikki and Alex D'Alessandro.
Harriet had a brilliant mind and was passionate about science from early childhood. Unlike most young girls of her era, she asked for an unusual birthday gift: a chemistry set. Her parents reluctantly gave one to her on the condition that she only use it in the basement of their home in the Jewish enclave of Newark, NJ. She received both an MA and PhD in pharmacology which led her to a 40-year career of research as professor of neuroscience at Weill Cornell Medical College and the Burke Neurological Institute. Over the course of Harriet's accomplished career, she published 140 papers and was citied in over 5,400. She focused on the Olfactory System and in particular, on identifying alternative neuronal sources for Parkinson's Disease. To those who knew her well, it will come as no surprise that Harriet self-diagnosed with Parkinson's disease in 1997.
When not working in the lab, Harriet pursued many varied interests with equal focus and drive. She was a marathon runner, superb chef and loved spending her free time birding, gardening, sewing, reading, collecting sea glass and shells to use for creative projects, visiting with her daughters and their families, and traveling the world with her husband, Bob. Harriet was abundantly generous, with an energy and enthusiasm for life. She was a wonderful wife, mother, grandmother, and beloved friend. She will be dearly missed.
A celebration of Harriet's life will be held at a future date. In lieu of flowers, please honor Harriet's lifelong commitment to science by making a charitable donation to scientific research of your choice.