Gerald Edelman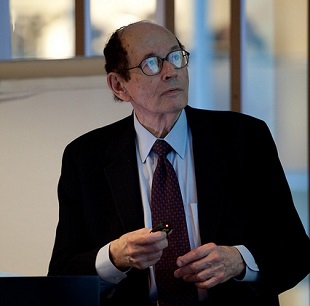 Biologist Gerald Edelman, who shared the Nobel Prize in physiology or medicine in 1972 for his work on the immune system died this month (May 17). Although the cause of death was unclear, Edelman had prostate cancer and Parkinson's disease. He was 84.

Edelman discovered that antibodies were made of two peptide chains—one long and one short—instead of one long peptide chain, as was once thought. Starting in the mid-1970s, Edelman shifted his research focus to the brain. He developed a theory that neuronal groups were selected for much like Darwinian selection produces certain phenotypes. He had previously found that antibody selection worked this way. The theory was controversial, but has been supported by subsequent research findings.

"There isn't going to be any kind of theory of the brain that doesn't involve elements of his ideas," Peter Vanderklish, a neuroscientist and colleague of Edelman's at the Scripps Research Institute in La Jolla, California, told The New York Times. "The brain is never—never has been or ever will be—in the same state twice, and will never encounter the same environmental cues twice. What's attractive about his model is that it tries to address that reality."

Edelman is survived by his wife, two sons, and daughter.