David R. Colman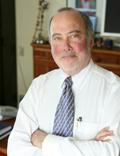 David R. Colman, PhD (1949-2011), Director of the Montreal Neurological Institute and Hospital (The Neuro) of McGill University and the McGill University Health Centre, passed away suddenly on June 1, 2011. Beloved husband of Elizabeth, devoted father to Monica and Miranda, and brother of Carol Colman (Michael Gerber) and uncle to Joshua Gerber.
David Colman was a true renaissance man. He was passionate about his family, science, art, cooking, heritage plants, old movies and so much more. His intelligence, entrepreneurial spirit and wonderful sense of humor will be deeply missed.
Born in New York, he received his BSc from NYU (1970), and his PhD from the State University of New York (1977). He held faculty positions at NYU School of Medicine and The Columbia College of Physicians and Surgeons. In 1993, he became the Annenberg Professor of Molecular Biology and Neuroscience, the Vice-Chairman for Research in the Department of Neurology, and the Scientific Director of The Corinne Goldsmith Dickinson Center for Multiple Sclerosis of The Mount Sinai School of Medicine.
In September 2002, Dave moved with his family to Montreal to become Director of The Neuro, one of five institutions supported by the Killam Trusts. He was deeply committed to Wilder Penfield's original vision of an integrated research and clinical institution. Through his championship of The Neuro and all the people who work there, he drew people in, captivating them with the promise of a new neuroscience.
Under his visionary leadership, The Neuro launched a $40-million campaign and was named one of the first Canadian Centres of Excellence in Research and Commercialization. Dave approached science with a strong conviction in basic, curiosity-driven research and he believed in approaching problems from every angle. This commitment led to the multidisciplinary Neuroengineering Program, an innovative Neuropalliative Care program, and a major expansion in brain imaging. Dave was a mentor to many. He encouraged young students to be curious about the world around them. He championed the Integrated Program in Neuroscience and was spearheading a collaborative project with the NFB of Canada to create an educational 3-D IMAX film about neuroscience.
He was a world-renowned scientist, who focused on problems related to myelination, spinal cord injury and nerve cell development and regeneration. His laboratory made major contributions to our understanding of how nerves are protected and nurtured by the myelin sheath in the brain and in the peripheral nervous system, and how nerve cells communicate with each other across the synapse. He was on the editorial boards of Neuron and Molecular and Cellular Neuroscience, and a member of the Medical Advisory Committee for the Gairdner Foundation, and authored more than 110 scientific publications in top tier journals.
Dave had a meaningful impact on all who had the fortune of knowing him and his legacy as a visionary leader and an extraordinary person will live on forever.
A private funeral will take place in New York. A memorial tribute will be held in Montreal at a future date. In lieu of flowers or gifts, please send donations to the David Colman Memorial Fund, Montreal Neurological Institute, 3801 University St., Montreal, Quebec, Canada, H3A 2B4.