Akira Arimura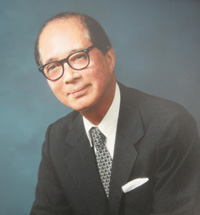 Dr. Akira Arimura was a noted neuroscientist and neuroendocrinologist. He was an Emeritus Professor of Medicine at the Tulane University School of Medicine, and founded the U.S.-Japan Biomedical Research Laboratories of the Tulane University Hebert Research Center. Arimura was credited with the discovery of the pituitary adenylate cyclase activating protein (PACAP), and was a part of an investigative team led by Dr. Andrew Schally, who won the Nobel Prize in Medicine and Physiology in 1977 for establishing a sensitive and specific assay for detecting luteinizing hormone releasing hormone (LHRH). A native of Japan, Arimura was born in Kobe and grew up in Kagoshima on the island of Kyushu. He received his MD and PhD degrees from Nagoya University, and then came to the U.S. on a Fulbright Fellowship as a postdoctoral fellow at Yale and Tulane universities. He received his first faculty appointment at Hokkaido University in 1961, but moved to Tulane University in 1965, where he joined the laboratory of Schally. He has authored over 1,000 papers and abstracts. Arimura is considered a Highly Cited Researcher by the ISI Web of Knowledge, and is the most quoted Japanese scientist in the world.
Believing that post-war Japan was greatly indebted to the United States for nurturing many of its scientists, and that it was Japan's obligation to return the favor by contributing to the advancement of scientific research in the U.S., Arimura established the U.S.-Japan Cooperative Biomedical Research Laboratories in order to promote international collaboration in research at the Hebert Center, using contributions from Japan. Having been within 50 miles of Hiroshima when the first atomic bomb was dropped, Arimura had seen the dark side of assembling the top brains in the world in the pursuit of destructive technology. In response, he organized the Sunshine Project, where he appealed to the Japanese government and private industries for funding research at his laboratories to ultimately benefit human health. There, in 1989, his team discovered PACAP, which, in addition to its neuroendocrine properties, is also neuroprotective.
Arimura was recognized by the government of Japan in 1995 for his lifetime contributions to science and the advancement of U.S.-Japan relations. He received the Order of the Rising Sun, Gold Rays with Neck Ribbon, the highest honor bestowed upon any professor at a private university. He has trained over 100 students, postdoctoral fellows, and visiting scholars from around the world, especially Japan and Europe. Arimura was also an accomplished cellist and a fan of the work of Chopin. He enjoyed tennis, fishing, cooking, carpentry, and renovating his antebellum home in New Orleans. Arimura is survived by his wife of 50 years, three children, and two grandsons.
Donations can be made to the Kaken American Foundation, dedicated to furthering the research of Dr. Arimura.