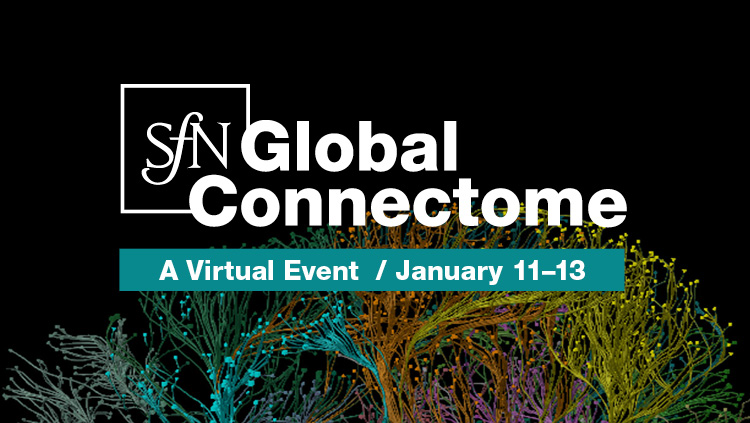 Scientific Panel Discussions
Short presentations from a mix of junior and senior investigators around a common theme
Scientific Panel
Monday, January 11
11 a.m.–12:15 p.m. EST
Motor Circuits in Action
Co-Chair: Silvia Arber, PhD
Biozentrum and Friedrich Miescher Institute
Co-Chair: Ole Kiehn, MD, PhD
University of Copenhagen
Presenter: Mackenzie Mathis, PhD
Swiss Federal Institute of Technology

The large behavioral repertoire animals generate depends on neuronal circuits distributed throughout the nervous system. Talks will describe the combined strength of applying behavioral analysis to the study of neuronal populations, circuits, and computations at the core of regulating movement parameters crucial for execution and learning of actions. They highlight the importance of precisely connected circuits in the control of body movements including locomotion and skilled forelimb movements.

Scientific Panel
Monday, January 11
11 a.m.–12:15 p.m. EST
Mechanisms of Internal States Across Species
Chair: Nadine Gogolla, PhD
Max Planck Institute of Neurobiology
Presenter: Steven Flavell, PhD
Massachusetts Institute of Technology
Presenter: Matthew Lovett-Barron, PhD
University of California, San Diego
Presenter: Moriel Zelikowsky, PhD
University of Utah

In this symposium, we will highlight recent advances into the brain mechanisms and processes underlying internal states across different species. Steven Flavell and Matthew Lovett-Barron will discuss how neuromodulation affects behavioral states in C. elegans and zebrafish, respectively. Shifting to mice, Moriel Zelikowsky will talk about internal states arising from social isolation, and Nadine Gogolla will discuss readouts and neuronal correlates of emotion.

Scientific Panel
Monday, January 11
2:15–3:30 p.m. EST
Sleep-Specific Characteristics Supporting Development, Learning, Memory, and Cognition Across Ages and Species
Chair: Gina Poe, PhD
University of California, Los Angeles
Presenter: Mark S. Blumberg, PhD
University of Iowa
Presenter: Lisa Marshall, PhD
University of Lübeck

The essential role of sleep for development, learning, and cognition has been established, but the specific mechanisms whereby sleep accomplishes these functions is still being elucidated. This panel will explore the latest discoveries about sleep states and sleep features that play critical and unique roles in connecting and reshaping our nervous system in ways that waking experience-dependent plasticity cannot.

Scientific Panel
Monday, January 11
2:15–3:30 p.m. EST
Neural Computations in the Human Brain
Chair: Nanthia Suthana, PhD
University of California, Los Angeles
Presenter: Edward Chang, MD
University of California, San Francisco
Presenter: Jennifer Collinger, PhD
University of Pittsburgh
Presenter: Ziv Williams, MD
Massachusetts General Hospital

Research studies using rare recordings from the brains of patients with implanted electrodes provide a unique opportunity to investigate underlying neural mechanisms of human behavior and cognition. This scientific session will bring together four experts to present their recent findings on a diverse set of topics (language, movement, decision making, memory, and spatial navigation) from intracranial neurophysiological recordings in humans.

Scientific Panel
Tuesday, January 12
11 a.m.–12:15 p.m. EST
Innovative Genetically Encoded Sensors for Imaging Neuronal Activities and Neuromodulators
Chair: Yulong Li, PhD
Peking University
Presenter: Ahmed Abdelfattah, PhD
Howard Hughes Medical Institute, Janelia Research Campus
Presenter: Xue Han, PhD
Boston University

Neuronal activities can be regulated by diverse neuromodulators, which are essential molecules for signal transmission between neurons. Monitoring the neuronal activities and dynamics of neuromodulators is critical for understanding the complex neurocircuits underlying the diverse behaviors. This mini-symposium will present the new, state-of-the-art techniques that enable rapid, sensitive, cell-specific monitoring of calcium, voltage signals, and neuromodulators.

Scientific Panel
Tuesday, January 12
11 a.m.–12:15 p.m. EST
Social and Decision Neuroscience of Addiction — Risk and Resilience Mechanisms
Chair: Anna Konova, PhD
Rutgers University
Presenter: Jeff Dalley, PhD
Cambridge University
Presenter: Marco Venniro, PhD
University of Maryland School of Medicine
Presenter: Anna Zilverstand, PhD
University of Minnesota

This session focuses on theory, computation, and forward and reverse translation of the social and decision neuroscience of addiction, including the role of social reward in resilience to drug use (Dr. Venniro), modeling of learning phenotypes in animals at risk for addiction (Dr. Dalley), human clinical decision neuroscience studies of patients progressing through recovery (Dr. Konova), and large-scale neurocognitive phenotyping of addiction risk in humans (Dr. Zilverstand).

Scientific Panel
Tuesday, January 12
2:15–3:30 p.m. EST
Deconstructing Distributed Circuits in the Control of Emotional Behavior
Co-Chair: Michael R. Bruchas, PhD
University of Washington
Co-Chair: Mazen Kheirbek, PhD
University of California, San Francisco
Presenter: Marian Joëls, PhD
University Medical Center Utrecht

This panel will describe recent efforts to understand the organization and function of neural circuits that control emotional behavior. Speakers will cover the distributed regions, connections, and cell types that generate normal adaptive behavior and how they may be disrupted by stress. This will include topics related to single cell and brain-wide responses to stress and how discrete circuits in the ventral hippocampus and locus coeruleus encode emotionally relevant information.

Scientific Panel
Tuesday, January 12
2:15–3:30 p.m. EST
Establishing Neuronal Identity — Emerging Principles From Diverse Animal Models
Chair: Minoree Kohwi, PhD
Columbia University
Presenter: Luisa Cochella, PhD
Research Institute of Molecular Pathology
Presenter: Xin Jin, PhD
Harvard University
Presenter: Maria Antonietta Tosches, PhD
Columbia University

What are the mechanisms that underlie the development of neural diversity? In this panel, speakers will present work from different animal models to understand how neural identity is established through investigating mechanisms of progenitor competence (Kohwi, fly), combinatorial gene regulation in time and space (Cochella, worm), how disease risk genes alter specific cell types in development (Jin, mouse), and the evolution of neuronal identity in the cortex (Tosches, reptiles and amphibians).

Scientific Panel
Wednesday, January 13
11 a.m.–12:15 p.m. EST
Neuron-Glial Interactions in Health and Diseases
Co-Chair: Michelle Monje, MD, PhD
Stanford University
Co-Chair: Anne Schaefer, MD, PhD
Icahn School of Medicine at Mount Sinai
Presenter: Nathalie Rouach, PhD
Collège de France

When we think about the brain, we first think about neurons that control cognition and behavior. Healthy neural circuit function depends on homeostatic and adaptive interactions with each glial cell type. This panel session will focus on novel mechanisms of glial-mediated neuromodulation and neuron-glial interactions involving each of the three main glia types in the CNS: oligodendrocytes, astrocytes and microglia. We will discuss how the different classes of glia can detect functional activity in neurons, how they contribute to neuromodulation, and how these relatively understudied yet fascinating cell types contribute to the control of complex behaviors in health and diseases.

Scientific Panel
Wednesday, January 13
11 a.m.–12:15 p.m. EST
The Power of a Cross-Species Approach to the Neuroscience of Empathy
Chair: Christian Keysers, PhD
Netherlands Institute for Neuroscience and University of Amsterdam
Presenter: Ewelina Knapska, PhD
Nencki Institute of Experimental Biology of the Polish Academy of Sciences
Presenter: Claus Lamm, PhD
University of Vienna
Presenter: Marta A. Moita, PhD
Champalimaud Foundation

A cross-species approach is uniquely poised to reveal causal relationships between brain activity and empathy-related processes. Keysers will focus on mechanisms of emotional contagion and prosociality using rat and human studies; and Lamm on the causal contribution of nociception in human empathy; Knapska and Moita on the mechanisms through which danger information is transmitted across rats and even fruit flies. We will discuss whether empathy could originate from systems evolved to sense danger.

Scientific Panel
Wednesday, January 13
2:15–3:30 p.m. EST
Cortical Contributions to Decision Making
Chair: Kate Wassum, PhD
University of California, Los Angeles
Presenter: Lesley K. Fellows, MD, DPhil
McGill University
Presenter: C. Daniel Salzman, MD, PhD
Zuckerman Institute at Columbia University

The prefrontal cortex has long been implicated in value-based decision making, but much remains unknown of the subregion-specific contributions and computations that underlie this process. In this session, the three speakers will discuss their work across three different species detailing the contribution of the prefrontal cortex to value-based decision making. Among other regions, the orbitofrontal cortex will be a focus.

Scientific Panel
Wednesday, January 13
2:15–3:30 p.m. EST
Microtubules and Actin Cross-Talk in Neuronal Health and Disease
Chair: Francesca Bartolini, PhD
Columbia University
Presenter: Stephanie Gupton, PhD
University of North Carolina at Chapel Hill
Presenter: Jessica L. Henty-Ridilla, PhD
State University of New York Upstate Medical University
Presenter: Monica M. Sousa, PhD
Institute for Research and Innovation in Health Sciences, University of Porto

For this scientific panel session, we will present outstanding examples of how employing state-of-the art cell biology approaches can bring us closer to deciphering the role of the actin and microtubule cross talk in neuronal health and disease. Speakers will describe overviews of their work on the role of actin and microtubule regulators in neurodegenerative disease (Drs. Bartolini and Henty-Ridilla), axon regeneration (Dr. Sousa), and neuronal morphogenesis (Dr. Gupton).