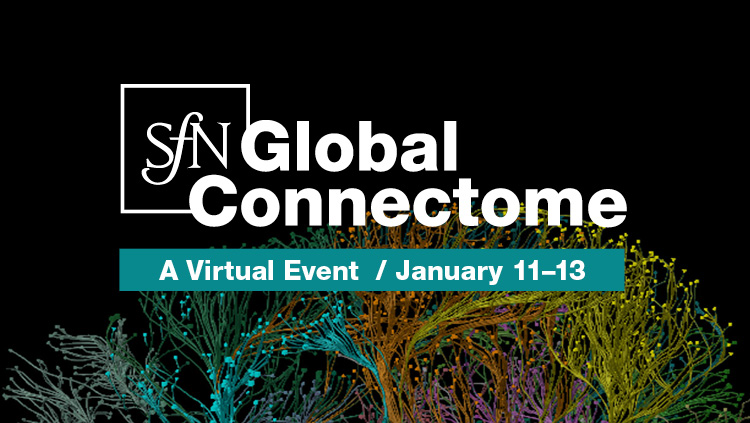 Plenary Sessions and Discussions
An in-depth look at the science of an established neuroscientist followed by a conversation between the presenter and two up-and-coming neuroscientists about future directions of the field
Plenary Session and Discussion
Monday, January 11
10–11 a.m. EST
Epigenetic Mechanism Governing Transcriptional Fates in Memory Storage
Presenter: Farah Lubin, PhD
University of Alabama at Birmingham
Moderator: Marie E. Gaine, PhD
University of Iowa
Moderator: Amy L. Milton, PhD
University of Cambridge

The objectives of this session are to discuss how basic science researchers are studying epigenetic mechanisms in the healthy adult brain to mediate the process of long-term memory (LTM) formation, how gene activation and repression triggered by learning experiences in the hippocampus are targets of epigenetic mechanisms in the healthy brain, and how dysfunction of these epigenetic processes may likely give rise to memory disorders.
Plenary Session and Discussion
Monday, January 11
10–11 a.m. EST
Unraveling Gut-Microbiota-Brain Interactions
Presenter: Mauro Costa-Mattioli, PhD
Baylor College of Medicine
Moderator: Amber Alhadeff, PhD
Monell Center and University of Pennsylvania
Moderator: Jun R. Huh, PhD
Harvard University

Traditionally, when we think of behavior and neurological disorders, we think about the brain. Costa-Mattioli will describe his unexpected finding that microbes in the gut can modulate brain function and behaviors in an amazingly powerful way. Moreover, he will discuss his efforts to elucidate the mechanism(s) by which microbes modulate selective behaviors and the prospect of non-invasive microbial-based avenues to treat neurological dysfunction.
Plenary Session and Discussion
Tuesday, January 12
10–11 a.m. EST
Engram Synapses
Presenter: Bong-Kiun Kaang, PhD
Seoul National University
Moderator: Denise J. Cai, PhD
Icahn School of Medicine at Mount Sinai
Moderator: Akiko Hayashi-Takagi, MD, PhD
RIKEN, Center for Brain Science

Although it became possible to optogenetically identify engram cells, we do not know whether memory formation modifies synapses between engram cells. In this talk, Kaang will present recent structural and functional approaches to reveal enhanced structural and functional connectivity between engram cells in the hippocampus and amygdala during fear memory formation. Engram synapses may form the synaptic correlate for memory formation, as D.O. Hebb prophesied.

Plenary Session and Discussion
Tuesday, January 12
10–11 a.m. EST
Unconventional — What Non-Model Organisms Like the Mosquito Can Teach Us About the Brain
Presenter: Leslie B. Vosshall, PhD
Howard Hughes Medical Institute, The Rockefeller University
Moderator: Ben Matthews, PhD
University of British Columbia
Moderator: Lucia L. Prieto-Godino, PhD
The Francis Crick Institute

Early discoveries in neuroscience used 'non-traditional' organisms such as giant squid and Aplysia. Contemporary neuroscience has narrowed its focus to a few model systems, yet there is growing appreciation that studying diverse organisms will reveal broader insights into the brain. This session will discuss the development of the dengue vector mosquito Aedes aegypti into an organism for modern molecular neuroscience and how these discoveries can translate into preventing the spread of disease.

Plenary Session and Discussion
Wednesday, January 13
10–11 a.m. EST



Why Pain Matters — From Basic Somatosensation to a Global Challenge
Presenter: Irene M. Tracey, PhD
Oxford University
Moderator: Victoria E. Abraira, PhD
Rutgers University
Moderator: Massieh Moayedi, PhD
University of Toronto

The ability to perceive pain, itch, and touch is key to survival and is part of our normal everyday experience. However, if pain goes chronic it leads to untold suffering and societal impact; it is a major global medical health problem. Here, we will take a journey linking basic neuroscience using molecular genetic strategies in animals to advanced neuroimaging in patients. We aim to describe the advances made in our understanding of this most fundamental of sensory and emotional experiences.
Plenary Session and Discussion
Wednesday, January 13
10–11 a.m. EST
Local Receptor Control of Axonal Excitability and Striatal Dopamine Release
Presenter: Zayd M. Khaliq, PhD
National Institutes of Neurological Disorders and Stroke
Moderator: Andrea Gomez, PhD
University of California, Berkeley
Moderator: Theanne Griffith, PhD
University of California, Davis

Axons of dopaminergic neurons transmit reinforcement signals to the striatum through patterns of propagating action potentials. Within the striatum, dopamine signals are shaped independently by input from local striatal circuits and receptor-mediated conductances that influence axonal excitability and dopamine release. This plenary will discuss the mechanisms by which local receptors shape the membrane potential of axons, propagated firing, and ultimately striatal dopamine release.