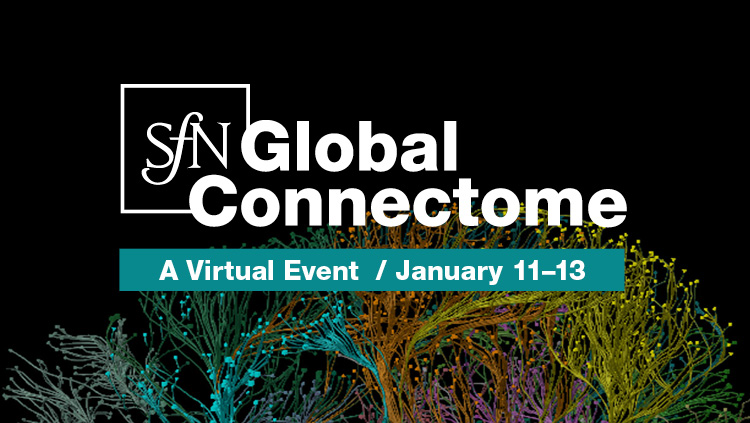 Featured Panel Sessions
A discussion of science and culture focusing on how to continue to enhance the work of science
Neuroscience in Society Session
Monday, January 11
1:15– 2 p.m. EST
Advancing Neuroscience in Developing Economies
Chair: Biafra Ahanonu, PhD
University of California, San Francisco
Presenter: Maria del Pilar Gomez Correa, MD, PhD
Universidad Nacional de Colombia
Presenter: Adesola Ogunniyi, MBChB
University of Ibadan, Nigeria
Presenter: Vijayalakshmi Ravindranath, PhD
Centre for Brain Research, Indian Institute of Science

Neuroscience holds promise for unlocking the mysteries of the brain, improving mental health, and combatting neurodegenerative diseases. In our global neuroscience community, understanding how values that drive research differ among cultures is critical for both advancing neuroscientific knowledge and equitably disseminating benefits derived from this new knowledge (2017 Global Neuroethics Summit; see Neuron, 2018, 100:19–36; https://globalneuroethicssummit.com/gns-2017/). Moreover, we recognize that neuroscientists working in countries with emerging economies face unique challenges in pursuing research. This panel will bring together prominent neuroscientists from three continents to discuss the rewards and challenges that shape their research programs.

Storytelling Session
Monday, January 11
1:15– 2 p.m. EST
Doing Science While Black — A Storytelling Session on Science and Race
Host: Bianca Jones Marlin, PhD
Columbia University
Presenter: AZA Allsop, MD, PhD
Yale School of Medicine
Presenter: Fatima Cody Stanford, MD
Massachusetts General Hospital, Harvard Medical School
Presenter: Robert Winn, MD
Virginia Commonwealth University School of Medicine

Storytelling is an art form that delivers true autobiographical stories from a first-person perspective. It is a way to give a voice to the voiceless and make ideas and messages penetrate social barriers by sharing the personal and intimate truth of the human experience. In this session, three amazing storytellers will share their funny, sad, disparaging, and hopeful experiences of doing science while being Black. Join us for this unique session. You are guaranteed to laugh and cry, be moved, and learn about science. Viewers are encouraged to extend themselves to experience, if even for a brief moment, being in the shoes of someone unlike themselves.

Dual Perspectives
Tuesday, January 12
1:15– 2 p.m. EST
The Best Path Forward to Understanding Brain Function — Is Cognitive and Systems Neuroscience Enough, or Do We Also Need Molecular and Cellular Approaches?
Chair: Robert Malenka, MD, PhD
Stanford University
Speaker: Nancy Kanwisher, PhD
Massachusetts Institute of Technology
Speaker: Thomas Südhof, MD
Stanford University

With powerful multi-level tools to examine brain function, the optimal strategy for studying the brain is unclear. A top-down cognitive-systems approach will reveal the neural basis of concerted brain functions, but will provide little explanation for how neurons and other cells in the brain achieve these functions. A bottom-up molecular-cellular focus generates insight into how neurons and glia communicate with each other, yet may miss emergent features of complex assemblies of these cells. Nancy Kanwisher and Thomas Sudhof will discuss potential different strategies for reconciling these approaches in order to chart a path forward.
Neuroscience in Society Session
Tuesday, January 12
1:15– 2 p.m. EST
Power and Privilege — Underrepresented Groups in STEM and Allies Navigating the Landmines
Chair: Jean A. King, PhD
Worcester Polytechnic Institute
Presenter: Anne M. Etgen, PhD
Albert Einstein College of Medicine
Presenter: John G. Hildebrand, PhD
University of Arizona
Presenter: Kevin S. Jones, PhD
University of Michigan
Presenter: Carmen S. Maldonado-Vlaar, PhD
University of Puerto Rico-Rio Piedras

Academia is a hierarchical system where power and privilege disproportionately impact those from underrepresented groups. Consistent efforts to change our current system are required. Yet, underrepresented individuals seek to succeed today even as these changes are not satisfactorily implemented. As underrepresented groups in STEM and their allies, we need to recognize and respond to these challenges. We will explore the systemic and structural barriers to success and share approaches, perspectives, and personal narratives that can be helpful, particularly during vulnerable periods. Our goal is to inspire our community to stay firmly on the path to success by successfully navigating the landmines.

Neuroscience in Society Session
Wednesday, January 13
1:15– 2 p.m. EST
Diversity Builds a Better Neuroscience
Chair: Lisa M. Savage, PhD
Binghamton University
Presenter: Angeline Dukes
University of California, Irvine
Presenter: Jibran Y. Khokhar, PhD
University of Guelph
Presenter: Steve Ramirez, PhD
Boston University

Join this panel in a conversation about challenges and solutions to address diversity in neuroscience. The discussion will include mentoring underrepresented students through the transition from undergraduate researcher to graduate scholar and beyond; the role of individual scientists and laboratories in promoting inclusiveness; the role of institutions to create a climate that sustains diversity; and the use of social media to amplify and build a diverse scientist network.

Storytelling Session
Wednesday, January 13
1:15– 2 p.m. EST
COVID-19 and Me — Coping and Impact to the Field
Host: Joshua Gordon, MD, PhD
National Institutes of Health
Presenter: Athena Akrami, PhD
University College London
Presenter: Adrian Owen, PhD
Western University
Presenter: Sadye Paez, PhD
The Rockefeller University

In this session, you will hear from three neuroscientists about their efforts to deal with the challenges and opportunities of the COVID-19 pandemic. In coping with the pandemic, each of us has been assumed new roles, pivoted to new science, and found the silver lining as we navigate these challenging times. We hope these stories will serve as launch points for an ongoing conversation that will foster a more intimate understanding of the pandemic and help build resilience in our community of neuroscientists.