About the Friends of SfN Fund
Beginning in 1969 as a small group of visionary researchers, SfN has grown to become the world's premier membership organization of scientists, educators, and physicians devoted to the brain and nervous system. The unique ideas, perspectives, and talents of each member, including yourself, serve to reinforce and broaden our collective ability to formulate new ways of thinking and acting. It is this interchange of ideas that allows us to tackle the major challenges of our time.
For this reason, through the Friends of SfN Fund, SfN invests considerable resources in local, global, and online programs aimed at supporting researchers, educators, and trainees; increasing diversity in the field; expanding public outreach and engagement activities; and promoting all levels of scientific inquiry.
Donations like yours help to make these efforts possible, and position the Society to take advantage of new opportunities. In addition to supporting SfN's global mission through contributions to the Friends of SfN general fund, you may also designate your gift to make a difference in two priority areas for the Fund: Training and Professional Development; and Education and Outreach.
Training and Professional Development: Preparing the Next Generation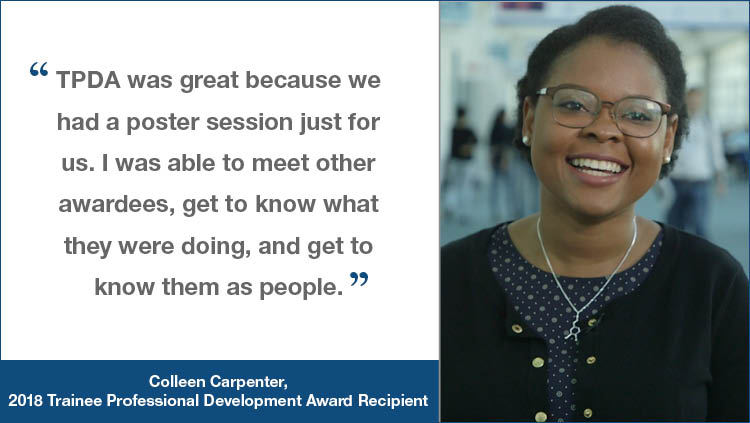 We can prepare tomorrow's scientists by introducing them to the inspiring environment of interdisciplinary learning at the SfN annual meeting and beyond. Gifts designated for training and professional development support programs such as the Trainee Professional Development Award (TPDA), which provides emerging neuroscientists with the chance to present their research at a dedicated poster session, network with peers and senior scientists, and acquire new knowledge and perspectives at the annual meeting. Awardees cite the TPDA as a key milestone in their professional development, particularly the awardee-only poster session which allows them to showcase their work, gain recognition from fellow scientists, and build new connections.
Eligible trainees account for many of the Society's membership, and donations help to increase the number who can benefit from these training and professional development opportunities.
The SfN Council has pledged to match all donations earmarked for TPDA, dollar for dollar, effectively doubling your contribution. Donations enable hundreds of TPDAs to participate in SfN's annual meeting.
Donate today to make a contribution to TPDA.
Education and Outreach: Reinforcing the Central Role of Science
SfN and its philanthropic partners are leading a bold initiative to engage learners of all ages: BrainFacts.org. This educational site provides the public with extensive information about the brain and neuroscience research in a way that is both comprehensive and understandable. This ambitious and empowering initiative was made possible entirely because of philanthropic support and has already transformed SfN's outreach strategies. Gifts designated for education and outreach will further enable SfN to undertake initiatives that build on the success of BrainFacts.org, such as:
Programs for science educators in schools and museums
Innovative partnerships with news and education organizations
Community efforts with SfN chapters and other organizational partners around the globe
For more information about the Friends of SfN Fund, contact development@sfn.org. To make a donation today, visit our Ways to Donate Now page to learn about which support option is right for you.