For immediate release
Brain Activity May Buffer Against Insomnia-Related Depression
Sep 18, 2017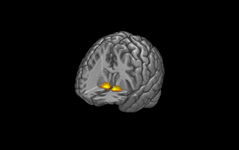 Increased activity in a brain region involved in motivation may protect from depressive symptoms associated with poor sleep, according to a large study of young adults published in JNeurosci.
Research has found that poor sleep is associated with depression in some but not all individuals, suggesting that other factors may moderate this relationship. Reduced activity in the ventral striatum (VS), a part of the brain that supports reward-processing and goal-directed behaviors, has also been associated with depression, and stimulation of this brain region has a therapeutic effect in some depressed patients, making it a possible moderating factor.
Reut Avinun and colleagues explored the relationship between self-reported sleep patterns, VS activity and depressive symptoms in a sample of more than 1,000 university students participating in the Duke Neurogenetics Study. Functional magnetic resonance imaging data collected as participants played a card-guessing game with positive and negative feedback, which was designed to engage the VS, suggested that students with higher reward-related VS activity were less likely to report symptoms of depression when experiencing poor sleep quality.
Further research could yield insight into the VS as a moderator of depression risk as well as a target for treatment, and help to explain why some individuals are more resilient to the relationship between depression and poor sleep.
Article: Reward-Related Ventral Striatum Activity Buffers Against the Experience of Depressive Symptoms Associated with Sleep Disturbances
Corresponding author: Reut Avinun (Duke University, Durham, NC, USA), reut.avinun@duke.edu