Christopher P. Turner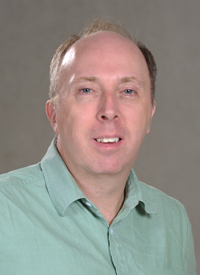 Christopher P. Turner, John Baldwin Professor of Neuroscience and director of the Neuroscience Program at Baldwin Wallace University, died unexpectedly Jan. 11, 2013 at his home in Berea, Ohio. He was 53.
Raised in England, he graduated with a bachelor's degree in pharmacology from Chelsea College at the University of London. He earned a master's degree in biology from Indiana University of Pennsylvania and then a PhD in neuroscience from the University of Texas Medical Branch. Dr. Turner completed postdoctoral fellowships in neuroscience at the University of California San Francisco (Department of Neurology) and served as a research scientist at the University of California San Diego (Department of Neurosciences) and Yale Medical School (Department of Pediatrics).
In 2003, Dr. Turner joined the faculty of the Department of Neurobiology and Anatomy at the Wake Forest School of Medicine, where he pursued NIH-funded investigations of the impact of anesthetics and other drugs on injury and cell death in the immature brain and the potential link between neonatal brain injury and schizophrenia. He assumed leadership for the Baldwin Wallace University neuroscience program during the fall of 2013.
Dr. Turner mentored more than 100 undergraduates in projects relating to brain injury, attention deficit disorder, learning deficits, emotional disturbances, and schizophrenia, which led to more than 40 published in peer-reviewed articles. He also trained numerous technicians, medical students, and physicians in neuroscience-related techniques.
Of his time teaching and mentoring students, Dr. Turner had said, "The most enjoyable aspect of my time at Wake Forest University was developing the undergraduate research program in my lab. My ultimate goal was to help students establish the foundations that would allow them to develop as independent investigators, and many of the undergraduate students who trained in that environment went on to pursue advanced degrees in science or medicine. At Baldwin Wallace, I found a program that shares that goal and I've been impressed by the layered, rich, and diverse activity of neuroscience students here."
He is survived by his mother, Cecelia, and his brothers Steven and Michael Turner of Liverpool, England.