Timothy Schallert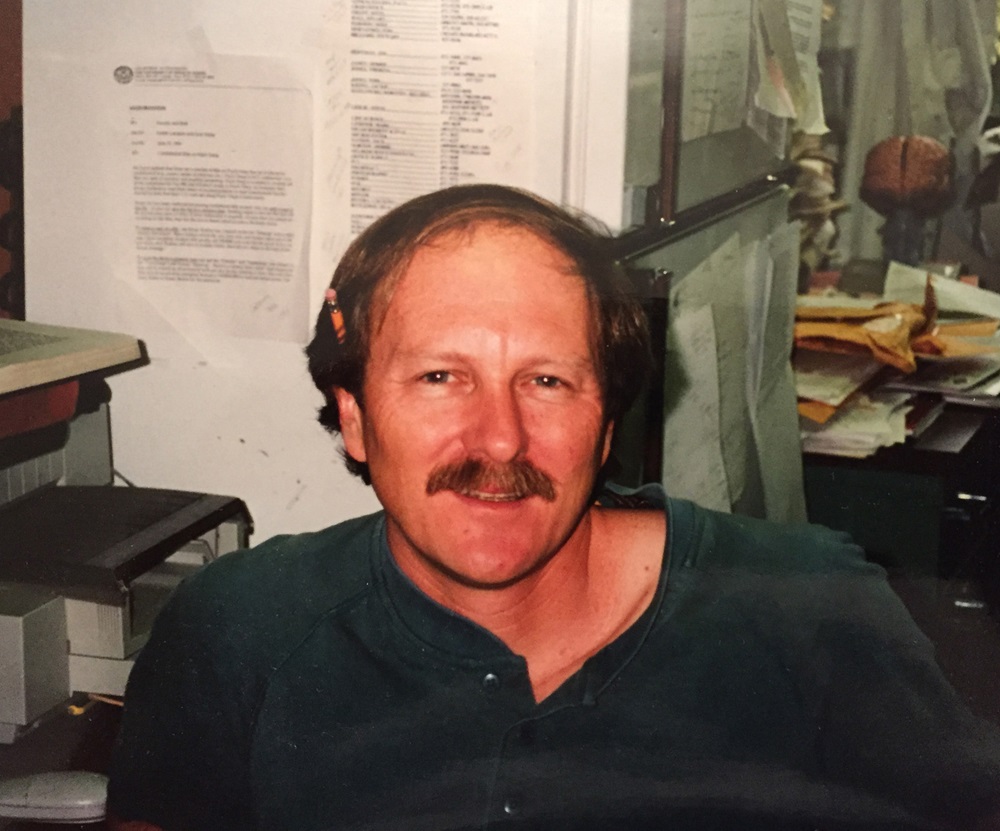 Timothy Schallert, age 68, died on May 29, 2018 at his home in Austin Texas. He had advanced Parkinson's Disease. Tim was a Professor of Psychology and Neuroscience at the University of Texas at Austin, an Adjunct Professor of Neuroscience at the University of Michigan School of Medicine, and an Adjunct Research Scientist of Neurology at Henry Ford Health Medical Center. Tim received his PhD in 1976 under the mentorship of Ernest P. Lindholm at Arizona State University. After postdoctoral training with Ian Q. Whishaw at the University of Lethbridge, Canada, and Philip Teitelbaum at the University of Illinois, Champaign-Urbana, he joined the faculty of the Behavioral Neuroscience Area of Psychology at the University of Texas at Austin in 1979, where he remained until he retired in 2017 and was named Professor Emeritus.
Tim is survived by his wife of 47 years, Diane Schallert, his sons, Robbie and Kellan Schallert, his grandchildren, Torrence, Makaira, Hayes and Dax, and a large and loving extended family.
Tim is also survived by a large scientific family of adoring collaborators, colleagues and former mentees. In our eyes Tim was a unique force of nature. Before the influence of his work on the field, conditions such as Parkinson's disease, drug addiction, brain damage and spinal cord injury were commonly studied in rodent models in a manner that placed little emphasis on brain-behavior relationships. It was the norm for rodent models to combine increasingly advanced brain-level analyses with extremely crude measures of behavior. Tim owns a huge share of the credit for the fact that it is now widely appreciated that crudeness on the behavioral level of analysis is a major limitation for the basic understanding that can be gleaned from rodent models of CNS injury and disease and its clinical relevance.
Tim's discoveries that neural responses to injury are extraordinarily sensitive to behavioral manipulations played a major role in compelling awareness that neurodegenerative and regenerative responses to CNS injury can be potently shaped by behavioral experiences. Tim also had a unique ability to find remedies to the problem of inadequate behavioral measures. His ability to find ways to ask highly sensitive and species-appropriate questions about rodent behavior in a manner that reveals disease and treatment mechanisms was legendary and has had a transformative impact on the behavioral approaches of the field. He invented and helped refine numerous behavioral assays that are now commonly used and among the most sensitive available for rodent models of acquired CNS injury and neurological disease. This includes the Schallert cylinder test, the bilateral tactile stimulation test (a.k.a. "sticky tape test"), the ledged tapered beam test, vermicelli handling test, and the corner test, to name just a few. In recent years, his assays of ultrasonic vocalizations (USVs) have helped support new models of speech-motor impairments and provided new windows into understanding drug sensitization.
Tim was broadly interested in brain-behavioral interactions, especially in the context of neuroprotection and restorative plasticity. He was never content to restrict the realm of these interests to a single type of disease or injury condition. One major focus in recent years was on neuroprotective effects of gene therapy and motor enrichment in a slow degeneration model of Parkinson's disease. Another was the collaborative application of a new model of brain cancer to investigate treatments that shrink brain tumors without diminishing the reactive neuroplastic responses that optimize brain and behavioral function. While pursuing these major directions, he was simultaneously a core collaborator in research in models of stroke, spinal cord injury, traumatic brain injury, iron deficiency, drug addiction, and more.
The impact of Tim's work on the field is due not only to the wealth and breadth of his research findings and his success in improving models and measures, but also to the fact that he was a brilliant communicator, eager collaborator and wonderful mentor. Tim was wildly inspiring, and incredibly generous with his time, especially when it came to talking about animal behavior. He was enthusiastic about sharing his ideas and methods with anyone who would listen and learn, and many did, because he had a talent for making it compelling through personal interactions and exciting research findings. Tim often has been referred to as a "rat neurologist". He was the "rat whisperer" to those of us who have had the privilege to watch him handle and administer behavioral tests to rodents. Both terms are a reflection of a deep awe and respect for Tim's savvy with rodent behavior, as well as for his impact on our field.
Tim was also extremely popular, and lauded, in his role as a teacher. He became a member of the Distinguished Academy of Teaching at UT Austin in 1998, the highest teaching honor of the university, and received numerous other teaching awards including the University of Texas President's Associates Teaching Excellence Award and the Amoco Foundation Award for Undergraduate Teaching. His large (~100 seat) undergraduate course in Psychopharmacology was extremely popular and always filled to capacity.
To his colleagues, collaborators, and trainees, Tim seemed to be indefatigable. In terms of common metrics of productivity, Tim was prolific, authoring more than 250 research reports and reviews, which have been cited more than 20 thousand times in the literature. Even in the face of advancing Parkinson's disease, he continued to be as active as feasible, mentoring trainees, maintaining active collaborations, and publishing regularly. He authored 17 publications in the last 2 years alone, the most recent one appearing this May.
Aside from his seemingly tireless research, teaching and mentoring activity, Tim somehow found the time for tremendous service contributions. For example, he was Associate Chairman of the Department of Psychology from 1985-1994. He was the Graduate Advisor for the Institute for Neuroscience doctoral training program from 1996 to 2000. He served on the Executive Committees of both Psychology Department and the Institutes for Neurosciences. He was a Fellow of the American Psychological Association, the American Psychological Society, and the International Behavioral Neuroscience Society. Tim was also responsible for establishing a collection of brains from over 200 neurological and psychiatric patients at UT Austin in 1986, and serving thereafter as the Director of the collection. This collection was formerly known as the UT Brain Pathology Collection. It is now named in Tim's honor: the Schallert Brain Museum.
Tim was a great scientist and a good human. He was an amazing mentor, collaborator, and friend. At a symposium held in his honor in Austin in December of 2015, well over 100 people gathered, some coming from across the globe, to pay tribute and celebrate Tim. A repeatedly expressed sentiment by those in attendance was immense gratitude to Tim for the ways he had influenced their research directions, and them personally, by serving as a role model, as a scientist and as a person. Tim leaves an enduring and dynamic legacy with not only his ideas and findings, but also his impact on his colleagues' ways of thinking and his numerous scientific offspring who are leaving their own marks in their respective fields. Many of us are struggling to accept the idea of a world without Tim, but we are incredibly lucky to have had him in it. Tim, you are so missed.