Robert Edward Sheridan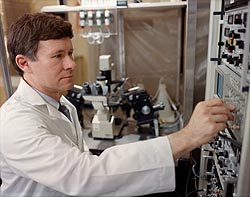 Bob was born in Darby, Pennsylvania. He attended Colorado State University, graduating in 1972 with a B. Sc. in Chemistry "With Highest Distinction". He was named Chemistry Senior of the Year.
Personal reminiscences of Bob Sheridan's career at Caltech
Bob and I worked together at Caltech for most of the decade from 1973 until 1983. When I arrived on campus in 1973, Bob was just beginning his second year as a graduate student. Bob's undergraduate education in chemistry, and his knowledge of electronics, suited him very well for a career in fundamental neuroscience. He joined my lab.
Actually, it's most accurate to say that Bob built my lab. Bob put together most of the gadgets, connections, cables, and tubing that we call a physiology "rig". Fred Sigworth (who was then a Caltech senior) dropped by one afternoon and learned from us what a voltage clamp was, and why we wanted it; Fred then constructed one. Bob modified, improved, and applied the circuit for several years as he conducted the experiments for his Ph D. thesis.
Bob then went to London for two years to work with David Colquhoun, where he honed his skills in electrophysiology. Bob returned to Caltech in 1980 as a postdoctoral fellow, and we started several projects together. We acquired a large and cantankerous flashlamp-pumped dye laser for our experiments on photoisomerizable drugs. Bob tamed that laser, which provided many occasions to use his dry wit. Then he did careful work with the laser. During those experiments, Bob and I enjoyed learning optics from each other. On a typical afternoon, we sat on the floor of the lab with lenses and mirrors, deriving classical optics in order to understand how that laser was delivering photons to the cells.
In 1981, patch clamping was discovered. We learned about the circuits that Sigworth was building to exploit this technique. Bob immediately set about building and applying similar circuits. Bob generated excellent data with those circuits and with the light-flash experiments.
Along the way, Bob also learned programming. Together, we acquired minicomputers and wrote software to run experiments with those computers. In 1981, Bob and I were excited to acquire, along with Jerry Pine, the first two IBM Personal Computers in Pasadena. We adapted those computers to our experiments, along with many more of Bob's witticisms. The result became pCLAMP, whose descendant is the software that still runs most cellular electrophysiological experiments.
Bob actually ran the research group for nearly a year, while I took a sabbatical in Israel. Before email and faxes, Bob and I kept in touch with a weekly phone call. Bob presided casually over a team of excellent scientists. In his time at Caltech, Bob interacted with David Armstrong, Don Koblin, Mauri Krouse, Menasche Nass, Jeanne Nerbonne, Martin Weinstock, and many appreciative visitors. Felix Strumwasser and Mike Raftery dropped in often from their nearby labs. Among the undergraduates were Dan Kegel and JackWathey. Mike Walsh and Jim Gilliam participated in many ways with electronics and instruments.
Bob played a large role in every intellectual and professional aspect of my life during that decade. We published eight papers together, and I smile when I recall the time we spent together performing that science. Bob had a wonderful analytical mind, and he easily mastered the technical and intellectual aspects of every topic we faced.
Bob's career in Washington, DC
For me, it was a bittersweet moment when Bob Sheridan went East in late 1982 to his series of independent positions in the Washington DC area. He was a member of the Pharmacology Department at Georgetown University from 1982 to 1988.
Beginning in 1988, Bob served in the Neurotoxicology Branch of the U.S. Army Medical Research Institute of Chemical Defense, Aberdeen Proving Ground, in Maryland. Among his other functions, he served as a Contracting Officer's Representative for the Army Medical Research and Development Command.
Bob conducted research with an emphasis on toxicology of biological toxins in nerve tissues and development of appropriate pharmacological therapeutics. Bob published extensively on the mechanism of botulinum toxin action. This expertise, and his desire to make a contribution to peace, led to his voluntary service, in 1998, as Inspector/Biological Weapons Expert for the United Nations Special Commission (UNSCOM) in Iraq.
Bob's other research interests included drug-receptor interactions, mechanisms of synaptic transmission, molecular regulation of presynaptic vesicle release, postsynaptic receptor homeostasis, and kinetic models of ion channels. He published many papers with Michael Adler and Sharad S. Deshpande. He was an expert on chronic effects of low-dose chemical warfare agents. Bob's colleague, Dr. Margaret Filbert, wrote, "Bob was dedicated to his profession and brought much enthusiasm and insight to his work. Those of us who have been privileged to work closely with Bob consider it a great honor to have known him as a colleague and friend and will miss him tremendously. Bob brought a special brand of warmth, humor and class to his interactions with friends and coworkers."
"Bob's considerable intelligence and intellectual curiosity led him to constantly expand his repertoire to new techniques and areas of research, most recently to behavior and molecular biology," said Dr. Tony Shih, acting chief of the institute's Pharmacology Division.

Bob is survived by his wife, Susan Etta Bachus, Ph. D. Susan is on the psychology faculty of George Mason University. Bob is also survived by his son Brendan Stewart Sheridan (Born 1987) and his daughter Ariadne Louise Sheridan (born 1992).
We all regret that among Bob's many gifts, long life was not included. Dr. Adler is setting up a scholarship fund:
Michael.Adler@amedd.army.mil or
Dr. Mike Adler
USAMRICD
3100 Ricketts Point Rd
Aberdeen Proving Ground, MD 21010-5400
Yours,
Henry A. Lester