Irving Nadelhaft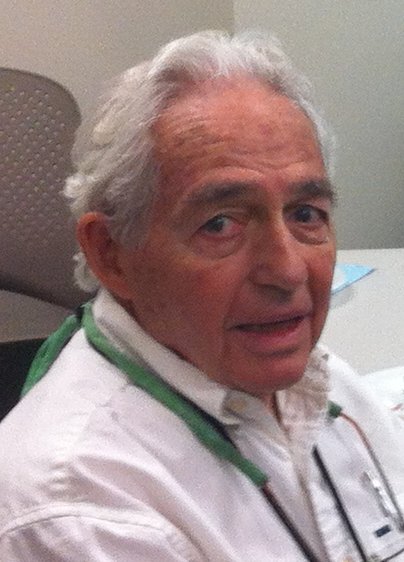 Dr. Irving Nadelhaft, an accomplished biophysicist and neuroanatomist and VA Research Scientist for 47 years, left the physical world September 6, 2016 at age 87. He is survived by his wife, Carol Nadelhaft; four children, Marilyn, Edith, David, and Robert; and five grandchildren, Rachel, Abigail, Tanner, Addison, and Crosby.
After graduating from the Bronx High School of Science, Dr. Nadelhaft completed his Bachelor's Degree at City College of New York in 1949 and received a PhD in Physics from Syracuse University in 1956 with a dissertation titled "Search for Delayed Neutrons from Nuclear Interactions due to Cosmic Rays". He continued his research as a Ford Foundation Fellow at CERN in Geneva, Switzerland, followed by appointments at Carnegie-Mellon University, Brookhaven National Laboratory, the University of Pittsburgh, and as an NIH Special Fellow at the Biology Department of MIT before beginning his journey with the Department of Veterans Affairs in 1969 at the VA Medical Center in Pittsburgh, PA.
Dr. Nadelhaft came to Florida in 1997 when he joined the Bay Pines VA as a biophysicist. He also maintained professorships in the Department of Molecular Pharmacology & Therapeutics and the Department of Surgery (Urology Division), Morsani College of Medicine at the University of South Florida in Tampa and held a membership with the H. Lee Moffitt Cancer Research Institute Division of Urology. He was a member of the American Urological Association, the American Association for the Advancement of Science, and a lifetime member of the Society for Neuroscience.
Still coming regularly into lab as a Scientist Emeritis during his last year, Dr. Nadelhaft's major contributions to neuroscience included improving our understanding of the neuroanatomical organization for control of micturition and the effects of various drugs affecting micturition function. These studies extended into related areas such as sexual function. His investigations included determination of neural pathways subserving these functions and encompassed the control by and relationships between the brain and the periphery. He advanced our knowledge of electrophysiological properties characterizing the neurons and their axons, the morphological parameters of these neurons, and elucidation of the types, locations and amounts of neurotransmitters involved in the function of these systems.
Dr. Nadelhaft was very well liked and held in high esteem by all of his colleagues and had a positive effect on everyone that he either mentored or interacted with. At his host institutions he served on numerous research committees including the Institutional Review Boards at VA Medical Centers and the University of South Florida. He performed volunteer work with Family Services and Planned Parenthood in Pittsburgh, PA. Irving enjoyed fishing on Cape Cod, MA, skiing, photography, and of course the New York Times crossword puzzle. He also loved astronomy and was a member of the Saint Petersburg Astronomy Club where he built several telescopes.
Over the course of his career, Dr. Nadelhaft authored over 60 peer-reviewed publications and contributed a vast wealth of knowledge to the field of neuroanatomy. His work entitled "The organization of the pudendal nerve in the male and female rat" from the Journal of Comparative Neurology has been cited by over 500 journal articles over the past 20 years and continues to be cited consistently today.