Martin G. Hulsey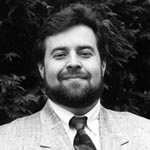 October 24, 1955 - June 11, 1998
Dr. Martin G. "Marty" Hulsey, 42, died at Emory University Hospital Thursday morning, June 11, 1998, after a long and hard battle against lymphoblastic leukemia. Dr. Hulsey was born on October 24, 1955.
Dr. Hulsey held membership in the following: Society for Neuroscience, Society for the Study of Ingestive Behavior, North American Association for the Study of Obesity, International Association for the Study of Obesity.
Dr. Martin Hulsey "Marty" was an Assistant Research Scientist in the Department of Foods and Nutrition, University of Georgia, in Dr. Roy J. Martin's research group. Marty was conducting research on obesity and on endogenous signals of energy balance regulation.
Marty will likely be most remembered for his research on an endogenous satiety signal he named "Adipose Tissue Satiety Factor." In 1989, as a follow up of his Ph.D. work he wrote: "With the Lipostatic Hypothesis in mind, I began to investigate whether the adipose tissue might synthesize and secrete peripheral satiety factors such as Satietin. I did succeed in finding anorectic activity in aqueous extracts of adipose tissue from overfed rats." His direct evidence for satiety factors in adipose tissue was made before the discovery of leptin and its powerful effects on energy balance. Dr. Hulsey continued to make progress on this research until his untimely death.
In addition to his research on adipose satiety signals, Marty worked with postdoctoral fellows and graduate students, introducing them to innovative approaches like the use of antisense oligonucleotide technology in feeding behavioral studies. One recent example of this is his administration of antisense oligodeoxynucleotide against GLUT2 glucose transporter mRNA which reduced food intake and body weight and suggested a possible role of brain GLUT2 in food intake regulation. Marty expanded this approach by providing guidance for a program to use a tetracycline binary vector system where a tetracycline controlled trans-activator expressed from one vector was used to give experimental control of GLUT-2 expression on a second vector.
Dr. Hulsey could always be counted on to challenge students and colleagues and to provide leadership and guidance to the younger people in the laboratory. Marty's ideas influenced many experiments that were conducted over the last several years at Georgia. He truly left his mark on the obesity research community. Marty will be also missed for the lively discussions whether explaining or debating scientific issues with students and his colleagues at Georgia or at National meetings.
A native of Fulton County, GA, Marty was a son of J. Charles and Marion E. Ferguson Hulsey of Gainesville, GA. Survivors in addition to his parents, include his wife, Sherie, a daughter, Angela, a son, Michael, all of Bogart, and a brother, Jim Hulsey, of Cleveland, Georgia.
Memorials may be made to a fund set up for Marty's wife and children by sending your contributions (make checks payable to Sherie Hulsey) to:
Lula Graham
Department of Foods and Nutrition
The University of Georgia
Dawson Hall
Athens, GA 30602-3622