Lawrence Charles Katz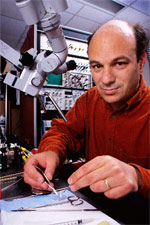 Lawrence Charles Katz, PhD, 48, of Durham, North Carolina, died on Saturday, November 26, of melanoma.
Katz was born December 23, 1956, in New York City, and graduated from Romapo High School in Spring Valley, New York in 1975. He received his Bachelors degree from the University of Chicago in 1979.
Katz received his PhD from California Institute of Technology in Pasadena in 1984, and completed his postdoctoral fellowship at Rockefeller University in New York. While at Rockefeller, he worked with Nobel Laureate Torsten N. Wiesel. According to Wiesel, Katz was one of the individuals who "made major contributions to our understanding of the functional architecture and development of visual cortex, and developed new tools for studying visual processing in the brain.
In 1990, he joined the faculty at Duke University as an assistant professor of Neurobiology. He was named a James B. Duke professor of Neurobiology and a Howard Hughes Investigator later that same decade. Katz was noted for his study of the adult mammalian sensory cortex. His work centered on cellular events and cues used by the developing brain to form, maintain, and modify local neuronal circuits, focusing in particular on the primary visual cortex.
In recent years, Katz continued to investigate the organization of the visual system, and his group had also begun to study the olfactory system.
"In particular, his lab used the mouse as a model to examine how olfactory signals important for basic, built-in behaviors are encoded by the main olfactory system, which detects airborne odors, and the vomeronasal system, which detects species-specific signals called pheromones."
Katz was also known for his adventurous spirit, exemplified by the experimental nature and trajectory of his research. In his work, he will be remembered for his courage and creativity. He loved using new techniques to answer old questions and open new frontiers. Katz was a gifted speaker and writer whose excitement about science was contagious. He will also be remembered for his generosity toward colleagues, junior and senior alike.
He was an avid and skilled fly fisherman. Katz is survived by his wife, Doris Iarovici, of Durham, North Carolina; his children, Ariel and Justin; his father, Leonard Katz of Naples, Florida; his sister, Elizabeth Katz, and her husband, Clifford, of Beijing, China; a niece, Leah; and two nephews, Greg and Mark.