James L. Larimer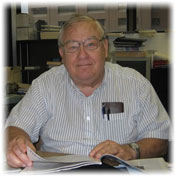 James L. Larimer, 75, of Austin, Texas died July 3, 2007. He was born in Johnson City, Tennessee on January 7, 1932. He received his undergraduate degree from East Tennessee State University in 1953 and his MA from the University of Virginia in 1954. Larimer studied under famed comparative physiologist Knut Schmidt-Nielsen for his PhD from Duke University in 1959. He joined the University of Texas faculty as an assistant professor of zoology in 1959, was promoted to associate professor in 1964, and was a full professor from 1968 until his retirement in 2005.
Larimer did postdoctoral work in Donald Kennedy's laboratory at Stanford University from 1967-68 as a John Simon Guggenheim Fellow. It was there that he began investigating the crayfish nervous system. He studied neural circuits underlying simple motor acts, mainly those involved in postural control. His most seminal contribution was demonstrating that so-called command neurons are complexly organized in synaptically interacting circuits. That is, they behave more like members of a committee than CEOs. This work presaged much of our current thinking about parallel processing and vectorial encoding of movement trajectories by neuronal populations.
Larimer was a storehouse of knowledge about animals and nervous systems of all kinds. He especially loved birds, and toward the end of his research career he studied the biomechanics of hummingbird flight.
In his unassuming low-key manner, Larimer was a popular teacher and an inspiring mentor. His Comparative Physiology course was a source of amazement and delight for undergraduates. He mentored several generations of graduate students and postdoctoral fellows, many of whom are now successful scientists.
Larimer's work on motor control was widely recognized. Among his awards were a Jacob Javits Award in Neuroscience from NIH, and a teaching award from the College of Natural Sciences at the University of Texas. He authored over 100 publications, including a textbook on animal physiology, and he was a member of many university and national committees.
An enthusiastic lifelong naturalist, Larimer's hobbies included gardening, woodworking, bird-watching, and watercolor painting. He is survived by his son and daughter-in-law, Bret Larimer and Laura Albornoz, of Lakewood, Colorado, and their children, Nicolas and Juliana; his daughter and son-in-law, Linda Larimer and Bob Faucher, of Boise, Idaho, and their children, Madeleine, Sam, Ian, and Paul; and his brother Victor Larimer, of Langhorne, Pennsylvania.