Inge Grundke Iqbal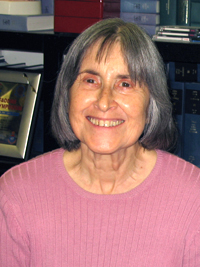 Inge Grundke-Iqbal, PhD, Professor and Head of Neuroimmunology at the New York State Institute for Basic Research in Developmental Disabilities, Staten Island, NY, passed away on Sept. 22, 2012.
Dr. Grundke-Iqbal was a world renowned neuroscientist and Alzheimer disease researcher who authored/co-authored approximately 200 scientific publications in prestigious American and international journals and books. She made several seminal discoveries that opened a whole new area of research in neurodegeneration, especially Alzheimer disease and related conditions like Down Syndrome. Her research contributions won her several U.S. Public Health Service, National Institutes of Health, and non-federal research grants and honors. Dr. Grundke-Iqbal received the New York State Governor's Award for Woman of Distinction in 1994, the Life Time Achievement Award for Alzheimer's Disease Research in 2000, and the T.L.L. Temple Foundation Discovery Award for Alzheimer's disease Research in 2001. She was awarded an Honorary Professorship by Tongji Medical University, Wuhan, P.R. China, in 2001.

In addition to her scientific contributions, Dr. Grundke-Iqbal was a Co-Founder and Trustee of the Promotion of Education in Pakistan (PEP) Foundation, Inc., New York, U.S.A., an organization dedicated to helping students in Pakistan who otherwise could not afford to attend college obtain quality education.

The family of Inge Grundke-Iqbal request that instead of sending flowers, people can make a donation to the PEP Foundation.