Guy McKhann, Brain Science Pioneer, dies at 91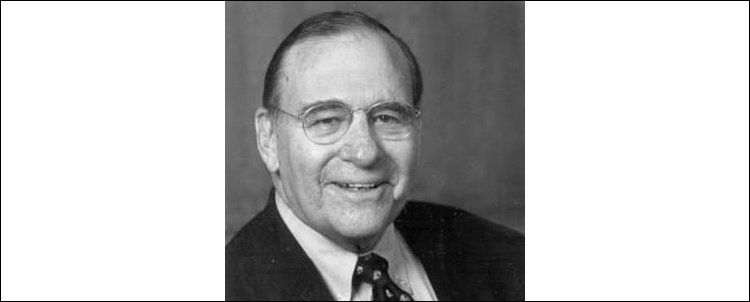 Guy McKhann, MD, a world-renowned brain scientist, the founding chair of the Johns Hopkins Department of Neurology, and mentor to three generations of leaders in academic neurology around the world, died on April 12, at age 91.
Dr. McKhann's health declined after a series of small strokes.
In the late 1960's, when Dr. McKhann arrived at Johns Hopkins in Baltimore to found and chair the new Department of Neurology, hospitals rarely had separate departments focused on the brain. He recruited brilliant young physicians with the goal of improving the care and treatment of common disorders of the nervous system, such as Alzheimer's disease, stroke, brain cancer, Multiple Sclerosis, and many others.
Dr. McKhann foresaw that brain imaging and neuroscience would transform neurology from primarily a diagnostic field to one that would offer patients new and effective treatments. The department would use brain research to advance patient care and train others to do the same. He built a department that consistently ranked among the best in the country and world. Under his leadership, Hopkins teams discovered the scientific basis for many now common therapies, such as deep brain stimulation for Parkinson's Disease, the ketogenic diet for epilepsy, the use of Botox for many conditions, and more.
"His accomplishments in neurology were both broad and deep, leading to changes in practice that are in common use today," said Justin C. McArthur, Director of the Johns Hopkins Department of Neurology.
Dr. McKhann's trainees subsequently fanned out nationally and internationally as leaders of modern neurology.
"Neurologists in virtually every academic department in the country benefited from his advice and in-depth understanding," said Dr. Gary Goldstein, former Director of Kennedy Krieger Institute at Johns Hopkins. "He was the coach of the winning team who always made you feel essential. He never took credit for your accomplishments and always made you feel that his suggestions were your ideas."
Dr. Mahlon DeLong, former Neurology Chair at Emory University and 2014 Albert Lasker Award winner, said, "Guy has been the key individual in my professional career. Decisions I made on my own were done thinking, "What would Guy do?" When in doubt, I would always call and discuss things directly with Guy."
"Guy truly changed the course of my entire life", said Dr. Eva Feldman, James W. Alpers Distinguished University Professor at the University of Michigan. "I left Hopkins in 1987, but Guy remained my mentor. He supported me in each aspect of my career, always available, always assisting me. Guy was instrumental in my selection as the third woman in 130 years to become President of the American Neurological Association, and my election to the Institute of Medicine."
"Guy was a spectacular, unbiased sounding board for ideas," said Dr. Brian Litt, Professor of Neurology and Director, University of Pennsylvania Center for Neuroengineering and Therapeutics. "Partly as a result of Guy's mentoring, merging engineering and medicine in the neurosciences is now a completely accepted career path. The sheer reach and impact that Guy had is mind-boggling."
After chairing the neurology department for twenty years, Dr. McKhann went on to found and chair the Zanvyl Krieger Mind/Brain Institute (MBI) at Johns Hopkins to address one of the great mysteries of science: how the brain processes information about the world to generate perception, knowledge, memory, decision, and action.
Charles E. Connor, Director of the Mind/Brain Institute, said, "Guy recruited people to MBI not just for their brilliance, but also for their humanity. Guy modelled for us how to lead by putting everyone's interests before his own, how to nurture by finding the best in each person, how to persuade by using fewer words to say more, how to guide the long-term course of events with patient steps and modest suggestions. I've never known a more natural leader."
Dr. McKhann then served as the clinical director of the National Institute of Neurological Diseases and Stroke (NINDS) at the National Institutes of Health for two years.
For more than thirty years, Dr. McKhann served as the Senior Scientific Advisor to the Dana Foundation which established Brain Awareness Week that involved neuroscientists around the world communicating the importance of brain science to general audiences.
In his own research, Dr. McKhann was equally influential. Dr. McKhann established the criteria for diagnosing Alzheimer's disease that has been in use for forty years. The "McKhann Criteria" created the common framework for Alzheimer research shared by investigators around the world. "He was and always will be a giant in the Alzheimer's field," said Dr. Maria Carrillo, Chief Scientific Officer at the Alzheimer's Association. Dr. McKhann received a Lifetime Achievement Award from the Alzheimer's Association in 2020.
Dr. McKhann led a team that identified new treatments for adult Guillain-Barre Syndrome, and discovered a new form of pediatric Guillain-Barre that was paralyzing children in countries around the world. When Dr. McKhann arrived in China in 1990, he found hospital wards full of paralyzed children with family members by their bedside manually operating respirators 24/7 to keep their children alive. He and his international team identified the cause and created treatments to prevent the disease. For his work in discovering and treating the disease, Dr. McKhann received an honorary medical degree from the Hebei Medical University in China.
Team member Arthur Asbury, MD, Chairman of Neurology and subsequent Dean of the School of Medicine at the University of Pennsylvania, described the collaboration as, "one of the most compelling examples of the power of interdisciplinary research … to advance scientific understanding of human disease."
For coronary bypass patients, Dr. McKhann showed that cognitive impairment following surgery generally was temporary and reversible, lasting no more than three months, and that long-term memory loss and cognitive problems were primarily due to underlying coronary artery disease, not to after-effects from the use of a heart-lung machine during bypass operations.
Dr. McKhann had considerable expertise in the profound ethical dilemmas surrounding brain death and served as a senior advisor to the Vatican on this important topic in the 1990s.
Together with his wife, Dr. Marilyn Albert, a Professor of Neurology and Director of the Division of Cognitive Neuroscience at Johns Hopkins, he co-authored the 2002 book, Keep Your Brain Young: The Complete Guide to Physical and Emotional Health and Longevity. The Wall Street Journal said the book was "for seniors-in-waiting, as well as the geriatric set … what doctors Spock and Brazelton were to our early parenting years."
Dr. McKhann attended Harvard University and the Yale School of Medicine. He completed his residency in neurology at Massachusetts General Hospital, and then served in the U.S. Public Health Service at the National Institutes of Health for three years. He was recruited to Johns Hopkins in 1969 at age 37 to found the new neurology department.
He was elected to the Institute of Medicine at the National Academy of Sciences (US), the American Association for the Advancement of Science, and The Royal College of Physicians (UK). He served as President of the American Neurological Association, and Chairman of the Scientific Advisory Group for United Cerebral Palsy.
Dr. McKhann was a life-long sailor, competing around the world with US Sailing Hall of Fame legend Stuart Walker. Together they won the US championship, placed second in the Olympic Trials, and competed in the Pan American Games. With his family, he sailed transatlantic twice in a forty-foot sailboat.
Dr. McKhann was born in Boston in 1932. His grandfather was a country doctor in Ohio, and both of his parents were professors of pediatrics.
He was the father of five children and two stepchildren. In addition to his wife of 26 years, Dr. Marilyn Albert, survivors include his children Ian (Zena Bernstein), Emily (Andy Cooper), Guy II (Teri Hartman), and Chas (Fei Wong McKhann), and step-children Josh Albert (Amelia Albert) and Katie Albert Bolton (William Bolton), and nine grandchildren: Guy III, Cameron and Casey McKhann; Erin and Atlas Cooper; Lindsey and Colin McKhann; and Sidney and Isaac Albert. His son James died in 2021 and his first marriage to Katherine Henderson ended in divorce.