Richard P. Bunge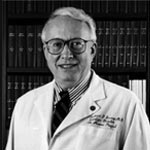 Richard Paul Bunge, a leader in spinal cord research, died of cancer at his home in Coral Gables, Florida in September 1996. He was 64.
Bunge was dedicated to helping those with paralysis through his research. His work, initiated in the early 1960s, led to fundamental discoveries about the central nervous system's ability for repair at the site of injury. Together with his wife and collaborator, Mary Bartlett Bunge, he contributed to the understanding of how Schwann cells, which have many critical functions in the spinal cord, can promote nerve regeneration.
Bunge was a professor of neurological surgery and cell biology & anatomy at the University of Miami School of Medicine and scientific director of the Miami Project to Cure Paralysis.
"Dick was an exceptional neurobiologist and devoted member of the Society for Neuroscience who had a strong commitment to our mission," says Pasko Rakic, president of the Society for Neuroscience. "He displayed an intense scientific curiosity, remarkable optimism and full dedication to research on neuronal regeneration. He was a close friend of many members of our community including myself and will be deeply missed."
Bunge received his doctorate in medicine from the University of Wisconsin School of Medicine in 1960. He launched his career at Columbia University College of Physicians and Surgeons in New York, where he held a faculty appointment in anatomy. Before assuming his position at the Miami Project in 1989, he also spent 12 years as a member of the anatomy and neurobiology departments at the Washington University School of Medicine in St. Louis.
"His contributions in the area of nerve regeneration will help pave the way toward effective treatments for spinal cord injury," says John Clarkson, senior vice president for medical affairs and dean of the University of Miami School of Medicine. Over half a million people worldwide experience some paralysis as a result of spinal cord injury according to the Miami Project to Cure Paralysis. Each year, approximately 10,000 spinal cord injuries occur in the United States. "As a result of his dedication and guidance he has elevated the level of dialogue within the field significantly," says Fred Gage of the Salk Institute. "We will miss him greatly."
In November, 1996, Bunge will be the posthumous recipient of the 1996 Wakeman Award for research leading to a better understanding of recovery form spinal cord injury. His past awards include two Javits Research Awards from the NIH, the Friedrich von Recklinghausen Award for the Advancement of Medical Sciences in the Field of Neurofibromatosis, and the University of Wisconsin Medical Alumni Association Citation.
In lieu of flowers, the Bunge family has asked that memorial contributions be made to either The Miami Project to Cure Paralysis (1600 NW 10th Ave., R-48, Miami, FL 33136); the Hope Program, a job readiness program for homeless and/or public assistance recipients in New York City (157 Montague St., Brooklyn, NY 11201); or the Southern Poverty Law Center (400 Washington Ave., Montgomery, AL 36104).