Lee Bernardis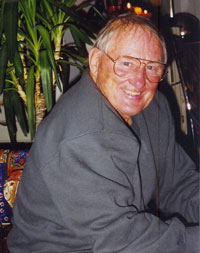 Lee Bernardis was born in Graz, Austria, on Sept. 18, 1926. He attended the University of Graz, Austria and was mentored by Karl von Frisch, who later won the Nobel Prize in Medicine. In 1949, Bernardis earned his first PhD, in zoology. Around this time, he became a body builder and pursued his passion for piloting gliders and boxing. In 1950, he won the Austrian Turn and Sportunion Light Middleweight Boxing Championship.
In 1951, Bernardis emigrated to Canada and worked various jobs before returning to the academic world. In 1961, he earned a second PhD, this one in physiology, under the direction of the noted scientist James A.F. Stevenson at Western Ontario. His research included studies of energy metabolism, neuroendocrinology, experimental obesity and food intake mechanisms. During this time he won the Central Ontario Light Heavyweight Boxing Championship, a feat his son later remarked was most interesting for a man with one PhD and working on a second.
Bernardis soon joined the faculty at SUNY at Buffalo and in 1963 published a seminal paper describing food intake and metabolic effects of weanling rats given small ventromedial hypothalamic lesions (VMNL). Over the next 40 years this paper was followed by several others from Lee's laboratory that showed body weight could be controlled as much by metabolism as by food intake. In 1965, Lee reported that rats with VMNL showed growth retardation and reduced pituitary acidophils. Later, the lesions were shown to decrease growth hormone secretion and increase the secretion insulin. In 1970, Lee published another seminal finding when he reported that destruction of the dorsomedial hypothalamic nucleus (DMN) produced a rat that ate and drank less than the controls and was smaller than normal but had normal body composition.
Bernardis published over 195 scientific papers and 168 abstracts, several book chapters, and a number of review articles, the writing of which he greatly enjoyed. At the time of his death, he was working on a massive reference article covering the role of the medial hypothalamus on feeding behavior and metabolism.