Angel Alonso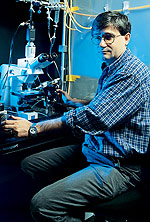 After a brief and sudden illness, Dr. Angel Alonso passed away in the early morning of July 6, 2005 at the Montreal General Hospital in Montreal, Quebec. He will be deeply missed by his wife Karina, his daughters Eva and Naida, his mother Pilar, his sisters, Isa, Carmina and Pili, his brother José Alberto, his father-in-law William, as well as by numerous colleagues and friends around the world.
A native of Barcelona, Spain, Alonso obtained both his BSc and MSc from the University of Barcelona. He went on to complete his PhD, magna cum laude, in Neurosciences at the Autonomous University of Madrid. He conducted his postdoctoral training with Dr. Rodolfo Llinás at the New York University School of Medicine. He joined the faculty at the Montreal Neurological Institute and Hospital at McGill University in 1990 and became an Associate Professor in both the departments of Neurology and Neurosurgery and Physiology.
Dr. Alonso was a world-renowned neuroscientist. He studied the role of neuronal oscillations in brain functions, importantly memory. He was a Chercheur National of the Fonds de la Recherche en Santé du Québec and Vice-President of the Montreal Chapter of the Society for Neuroscience.
Angel Alonso touched the lives of many people – the many students and fellows that trained in his laboratory, his colleagues, as well as his friends. He lectured around the world and published his research in more than 60 scientific articles in prestigious journals such as Nature.
In lieu of flowers, please send donations to the Montreal Neurological Institute, in memory of Dr. Angel Alonso, at the following address: MNI Development Office, 3801 University Street, Montreal, Quebec, H3A 2B4 or to the Montreal Association for the Blind, 7000 Sherbrooke Street West, Montreal, Quebec, H4B 1R3.