Member Benefits
Benefit from the exchange of scientific research, in-person and online programming, advocacy and outreach engagement, and the global community offered to you year-round.
Explore the Best of What Neuroscience Offers
Neuroscience is global in both impact and community. Joining SfN connects you to other scientists and their research and will challenge you to pursue new collaborations and uncover new discoveries.
Members enjoy a range of benefits and opportunities that assist scientists of all career stages. Examples include:
World-class events such as SfN Global Connectome and virtual conferences
Unique opportunities to build collaborations with scientists from around the world
Best-in-class training resources to enhance your career
Expert-led platform and tools to engage the public with brain research and novel discoveries
Subscription access to JNeurosci online content
Access to Neuronline, SfN's home for learning and discussion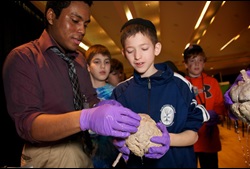 Get inspired by and join SfN members around the world in sharing your science with your community.
Benefits of Membership
Learn how membership benefits you!
For individual scientists or students.

For companies, corporations, nonprofits, and foundations.