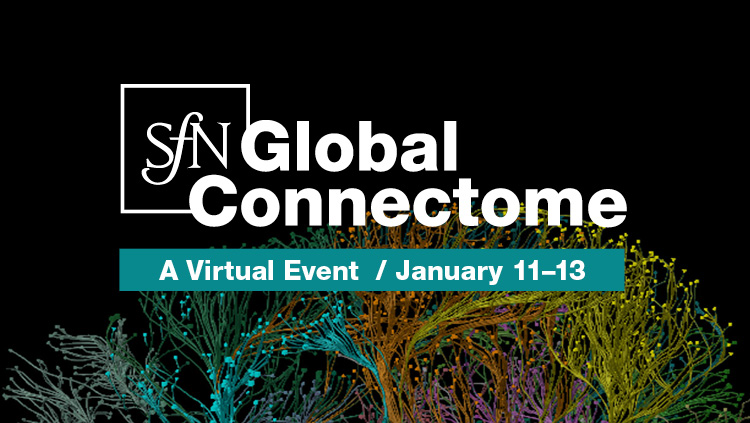 Registration
Learn more about the registration process for SfN Global Connectome.
Attend SfN Global Connectome
Note: Groups of five or more registrants should navigate to the group registration option below. You will not be able to opt for the group registration discount with this link.
You can still register for SfN Global Connectome. Registration includes on-demand access to the virtual environment and event recordings. Sessions are available to view on demand until April 13, 2021. Digital posters are available on demand until February 13, 2021.
This brand-new, cross-cutting digital neuroscience event is open to all neuroscientists and is designed to facilitate scientific exchange across the globe and across the field, providing scientists at all career stages with opportunities to learn, collaborate, and connect.
SfN Global Connectome: A Virtual Event will take place January 11-13. All times for the SfN Global Connectome are in Eastern Standard Time.
Join SfN or renew your membership now to get the best registration rates!
Review frequently asked questions about registration.
Check out the Virtual Event Guide to review the lineup of plenary sessions, panel discussions, exhibits, and more. Click the thumbnail below.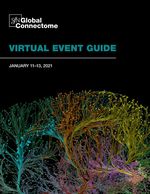 Register as a Group
Note: This discounted option is available for groups of five or more registrants. If you do not wish to register with a group, navigate to the Individual Registration link above. You will not be able to opt for individual registration with this link.
A group registration option is available for groups of five or more registrants which offers a 10% discount on the registration fees. The group registration process will not work for fewer than five registrations. Please note that registration is not complete until SfN receives payment. Access to the abstract submission process will not be available until payment has been made.
A group contact is required to enter the registration information. Group contacts must register themselves if they wish to attend SfN Global Connectome: A Virtual Event.
Before beginning the group registration process, please confirm SfN Membership status and the email address associated with the SfN membership for each person you wish to register. An active 2020 or 2021 membership as well as a completed registration is required to access the abstract submission process.
Note: If you wish to participate in group registration, you must begin the registration as part of a group. We are unable to move individuals into a group once registration is completed.
For questions on the Group Registration process, please contact meetings@sfn.org.
Registration Opens November 2
Fees vary based on membership categories and registration options. Learn about the new discounted group registration option below.

Access your registration receipt or view your abstract submission.
Cancellations and Substitutions
Due to the virtual nature of the event and the on demand access that will be available to registrants, there will be no cancellation or substitutions for registrations. All session content will be available for three months after the event, and digital abstracts for one month.

Note: If you are scheduled to present an abstract at SfN Global Connectome, please note that cancelling your registration does NOT cancel your abstract presentation. To notify SfN that you will not be presenting your abstract, submit a request to change the status of your abstract presentation by emailing program@sfn.org.