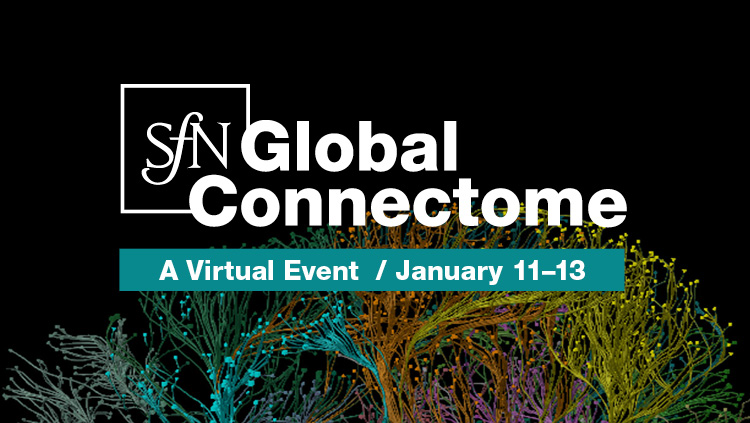 Call for Abstracts
Abstract submission for SfN Global Connectome: A Virtual Event will open on Monday, November 2 and close on Friday, November 13 at 5 p.m. EST.
Abstract Submission Reminders
You must be registered as a current, individual SfN member before you can submit an abstract. Registration and abstract submission will open November 2.
The body of the abstract should be no more than 2,300 characters, not including spaces.
Only current, individual members of SfN are allowed to submit abstracts. Join/renew now to ensure that you are able to submit your abstract.
Review the abstract submission rules.
Members are allowed to submit one scientific abstract and one Theme J (History, Education, and Society) abstract.
The affiliate membership type cannot be used for abstract submission.
All abstract presenters must be registered for the virtual event.
Review the Photography and Recording Policy and the Code of Conduct at SfN Events. Digital abstracts will be available on-demand for one month after the conclusion of the SfN Global Connectome event.
Digital Abstract Presentation Features
Web-based video chat room for presenters to meet with attendees to discuss their abstracts during the presenters' 30-minute presentation time slot
Text-based chat available alongside the poster for the duration of the meeting for attendees to leave questions or comments at any time
Audio capability for your PDF poster
Searchable hashtags included with the abstract. On the job market? Include a hashtag to let attendees know!
Notice of Abstract Acceptance
First authors of submitted abstracts will receive notification of their abstract's acceptance status in early December. Communications regarding abstracts will be sent to first authors only. Other co-authors should ask their abstract's first author for information regarding their abstract.
Accepted abstracts are organized into topically-based scientific digital abstract sessions and Theme J digital abstract sessions. Abstracts are grouped together based on the theme and topic that abstract submitters select from the Themes and Topics list during abstract submission. Theme and topic selections help the Program Committee to group abstracts; they do not represent the titles of annual meeting sessions.
Accepted abstract presenters will be expected to transparently report a study's experimental design and analytical methods in their digital abstract presentation at the annual meeting. Efforts to ensure scientific rigor include blinding, statistics, sample sizes, and replication. Error bars should be defined. Biological variables such as species, sex, age, strain, or cell line should be noted in the presentation, if applicable.
First/presenting authors are required to register for SfN Global Connectome: A Virtual Event prior to uploading their digital abstract presentations. If the presenting author cannot attend, presentation by a co-author is acceptable.
Information and data included in abstracts submitted for the SfN virtual event are embargoed until the conclusion of the SfN presentation or press conference. Abstract presentations may not be presented at another meeting or published in an archival scientific publication before the scheduled SfN presentation date unless it is at an SfN-hosted press conference for SfN Global Connectome. All authors must abide by SfN's embargo policy.

Coverage of an abstract, lay summary, data, or supplemental material is strictly prohibited until the embargo is lifted. Promotion of general topics, speakers, or presentation times is permitted and encouraged within the stated guidelines.