50th Anniversary Events and Featured Panel Sessions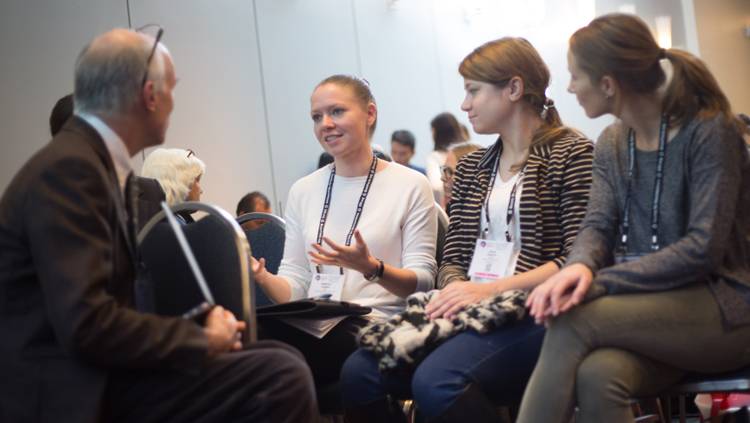 50th Anniversary Events
SfN is proud to celebrate 50 years of promoting scientific discovery and connection at its annual meeting. In 2019, SfN celebrated the 50th anniversary of its founding. The 2020 meeting marks 50 years of the SfN annual meeting. To commemorate these anniversaries, SfN has created special sessions showcasing the evolution of the field and the promising future.
Dual Perspectives
Studying Human Neurodevelopment and Diseases Using 3D Organoids

Moderator: Marina Picciotto, PhD
Induced pluripotent stem cells (iPSCs) are increasingly being used to understand the neural phenotypes related to neurobiological illness and the effects of genetic polymorphisms on synaptic properties. Similarly, brain organoids are providing information on neuronal development and how this is altered in disease. This 50th Anniversary Dual Perspectives session will bring together experts in these two areas, Kristen Brennand and Yun Li to describe and debate the relative contributions of iPSCs and organoids.
Storytelling Session
Oh Sh*t — Great Scientists Tell Stories About Their Greatest Failures

Chair: Megan H. Hagenauer, PhD
Science can be brutally difficult. The daily experience of science is often failure; most experiments fail, most grants are rejected, most job candidates never get an interview. Despite this, failure is rarely discussed in public and the long stumbling chain of failures that lead to scientific findings are hidden between the lines of publications. In this session, established scientists will tell their personal stories of crashing and burning: mistakes, fiascos, and deeply humbling moments.
Then and Now Panels
Mentor and Mentee — A Conversation About 40 Years on Different Routes to the Same Destination

Chair: Elizabeth A. Phelps, PhD
Michael Gazzaniga presented a lecture on split-brain patients at the Society for Neuroscience's first annual meeting in 1971. Several years later, Joseph LeDoux became Gazzaniga's PhD student. Their research together suggested that inner narrations underlie our conscious sense of unity as an organism. In the 1980s, Gazzaniga's work was pivotal in establishing the field of cognitive neuroscience, while LeDoux's research helped revive the study of the emotional brain. In this session Gazzaniga and LeDoux will discuss how their collaboration influenced their separate scientific paths, including their common interest in consciousness.
Featured Panel Sessions
These interactive panel discussions encourage scientific collaboration and discussion. Basic-Translational-Clinical Roundtables offer clinician-scientists an opportunity to earn CME credits.
Basic-Translational-Clinical Roundtables
Medicinal Cannabis — The Evidence and the Promises CME
Organizer: Diana Martinez, MD
This session will discuss the neuroscience of medical cannabis, including the neurobiology of the endocannabinoid system and the potential medicinal uses of cannabis. The panel will discuss the role of cannabis in treating some medical disorders while exacerbating others and will review the data supporting its clinical use. Additionally, the signs of a cannabis use disorder will be discussed, including the risk factors for developing this disorder and potential ameliorating factors.
What Can Genomics, Omics, and Other Unbiased Approaches Tell Us About Alzheimer's Disease and Dementia? CME
Organizer: Gerard Schellenberg, PhD
Description TBD
Dual Perspectives
Can Artificial Intelligence (AI) Provide a Theoretical Framework For Understanding the Brain or Is It Too Far Removed From Physiology To Be Useful?
Moderator: Anthony M. Zador, MD, PhD
Description TBD
What Does Dopamine Encode?
Moderator: Patricia H. Janak, PhD
The discovery of reward prediction error coding during reinforcement learning represents a dramatic success story in linking computational theory to experimental evidence. In addition to a teaching signal, recent studies report a diversity of information coding in tegmental dopamine neurons, including differential signals between dopamine release and cell body spiking for motivation and reward prediction error. Wolfram Schultz, Ilana Witten, and Josh Berke will directly address how these findings can be reconciled with traditional learning models of dopamine function.