Louise Hanson Marshall Special Recognition Award
Submissions Open: Mar 28, 2023, 08:00 AM, EST
Submissions Close: May 18, 2023, 05:00 PM, EST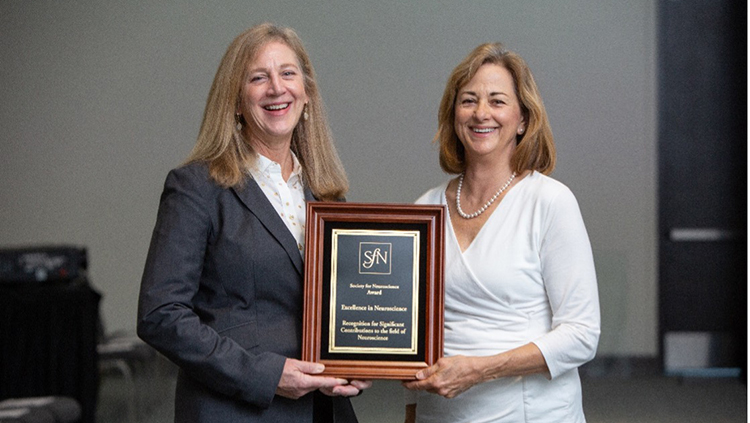 Lise Eliot, PhD (left), of the Department of Foundational Sciences & Humanities at Rosalind Franklin University of Medicine & Science was awarded the Louise Hanson Marshall Special Recognition Award in 2022.
The Louise Hanson Marshall Special Recognition Award honors an individual who has significantly promoted the professional development of women in neuroscience through teaching, organizational leadership, public advocacy, or other efforts that are not necessarily research-related.
Recipients receive complimentary registration, transportation (economy air or ground), and two nights' hotel accommodations for the SfN annual meeting. The award is presented at the Celebration of Women in Neuroscience Luncheon held during the meeting.
For more information, please review the Awards and Prizes FAQs.
Nomination Criteria & Materials
Nomination Criteria:
Nominations must be made or endorsed by an SfN member.
Nominees do not need to be SfN members.
Self-nomination is not permitted.
No person may nominate more than one candidate.
Current SfN officers and councilors are ineligible for nomination.
Due to the potential conflicts of interest, members of the selection committee may not be the nominees and they cannot serve as nominators nor write letters of recommendation.
Nomination materials include the following:
One nomination letter and a maximum of two optional letters of recommendation

One letter must summarize key research accomplishments, mentoring, leadership and service, and the significance and impact of the nominee's work and activities related to the advancement of women's careers in neuroscience

Current CV or resume
Eligibility
Nominees must have demonstrated service to the profession through SfN and/or related organizations.
Nominees must have received recognition at a national or international level as a scientist, educator, businessperson, or administrator in neuroscience.
Nominees must have demonstrated outstanding imagination, innovation, and initiative in the pursuit of neuroscience.
Nominees must have demonstrated dedication to facilitating the mentoring and entry of early career women into neuroscience or to the advancement of women in neuroscience.
Learn More About Past Award Winners
2023: Susan Masino, PhD
2022: Lise Eliot, PhD
2018: BethAnn McLaughlin, PhD
2017: Anne Churchland, PhD
2014: Stacie Bloom, PhD
2013: Kathie L. Olsen, PhD
2011: Judy Illes, PhD
2010: Jill Becker, PhD
2007: Marian Diamond, PhD
2005: Nancy Hopkins, PhD
Achievement Awards Selection Committee