Bernice Grafstein Award for Outstanding Accomplishments in Mentoring
Submissions Open: Mar 28, 2023, 08:00 AM, EDT
Submissions Close: May 18, 2023, 05:00 PM, EDT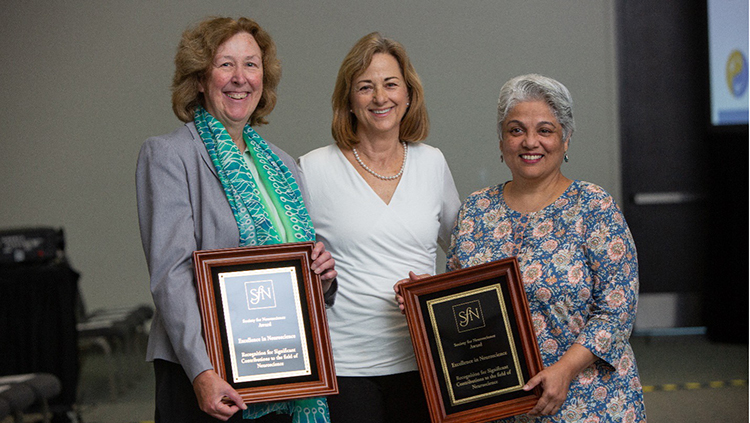 Alice Cronin-Golomb, PhD (left), of the Department of Psychological and Brain Sciences at Boston University and Shubha Tole, PhD (right), of the Tata Institute of Fundamental Research Department of Biological Sciences were both awarded the Bernice Grafstein Award for Outstanding Accomplishments in Mentoring in 2022.
The Bernice Grafstein Award for Outstanding Accomplishments in Mentoring, supported by Bernice Grafstein, PhD, recognizes individuals dedicated to women's advancement in neuroscience through mentorship.
Recipients receive a $2,500 award and complimentary registration, transportation (economy air or ground), and two nights hotel accommodations for the SfN annual meeting. The award is presented at the Celebration of Women in Neuroscience Luncheon held during the meeting.
For more information, please review the Awards and Prizes FAQs.
Nomination Criteria & Materials
Nomination Criteria:
Nominations must be made or endorsed by an SfN member.
Nominees must be SfN members.
Self-nomination is not permitted.
No person may nominate more than one candidate.
Current SfN officers and councilors are ineligible for nomination.
Due to the potential conflicts of interest, members of the selection committee may not be the nominees and they cannot serve as nominators nor write letters of recommendation.
Nomination materials include the following:
One nomination letter and a maximum of two optional letters of recommendation

One letter must describe the nominee's contributions to the advancement of women in neuroscience through mentoring and other efforts, such as leadership and service

Current CV
A list of students and postdoctoral scholars who have been mentored by the nominee
Eligibility
Nominees must have demonstrated dedication to and success in mentoring women neuroscientists and in facilitating women's entry into or retention within the field of neuroscience.
Nominees may be recognized for related efforts and achievements that promote women's advancement in neuroscience.
Learn More About Past Award Winners
2023: Karen Froud, PhD
2021: Jill Becker, PhD
2019: Marina Picciotto, PhD
2017: Pamela Mellon, PhD
2016: Eva L. Feldman, MD, PhD
2015: Julio J. Ramirez, PhD
2014: Karen Gale, PhD
2013: Jane Roskams, PhD
2012: Anne M. Etgen, PhD
2011: Stephen Lisberger, PhD
2010: Janet Neisewander, PhD
2009: Victoria Luine, PhD
Achievement Awards Selection Committee