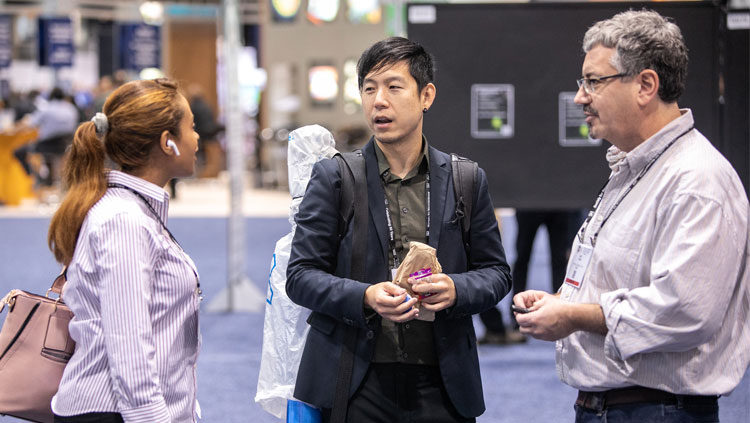 Virtual Career Fair
At the NeuroJobs Career Center Virtual Career Fair, held during SfN Global Connectome: A Virtual Event, employers and job seekers had an opportunity to connect.
From January 11-13, 2021, the NeuroJobs Career Center hosted a Virtual Career Fair during SfN Global Connectome: A Virtual Event. The Virtual Career Fair provided job seekers and employers with a unique opportunity to connect one-on-one through live text and video chat from the comfort and safety of their own homes.
You may contact neurojobs@sfn.org with any questions.
Participating Employers:
Allen Institute for Brain Science Careers
Alzheimer's Association
Calico Life Sciences
Howard Hughes Medical Institute (HHMI)
i3S, University of Porto, Portugal
Institute of Neuroimmune Pharmacology (INIP)
Marshfield Clinic Health System
Medical College of Georgia at Augusta University
NIH/NINDS
Postdoctoral Training in Intellectual Disability Research at the Albert Einstein College of Medicine
Poston Lab at Stanford University
REGENXBIO, Inc.
Rice Neuroengineering Initiative Careers
The Jackson Lab
The Scripps Research Institute Florida
UMN Neuromodulation Research Center
UTRGV School of Medicine Department of Neuroscience
Weill Cornell Medicine
West Virginia University, Department of Biology
Attending the Virtual Career Fair as a Job Seeker
The Virtual Career Fair provided job seekers with the opportunity to browse through multiple job listings, explore employer profiles, and initiate conversations with employers of interest.
Attending the Virtual Career Fair as an Employer
Employers who exhibited during the Virtual Career Fair benefited from the unique opportunity to directly connect with qualified candidates in the neuroscience field.
Virtual Career Fair exhibitors received:
One 30 day "Qualified" job posting
Two all-access badges and two exhibit-only badges for SfN Global Connectome: A Virtual Event
A booth at the three-day Virtual Career Fair, which includes:

Ability to upload your logo, up to four content links and PDFs, a banner, and an intro video
Ability to upload the photos, titles, and contact information of your participating staff
Video and text chat
Lead retrievals
Due to the virtual nature of the event and the on-demand access that will be available to exhibitors, there are no refunds for exhibit cancellation. If SfN decides to cancel or is prevented from holding the event for any reason beyond SfN's control (such as, but not limited to damage to internet infrastructure, riots, acts of government or acts of God, internet connectivity issues), then SfN has the right to cancel the event or any part thereof, with no further liability to the exhibitor other than a full refund of exhibit fees.