Jacob P. Waletzky Award
Submissions Open: Mar 28, 2023, 08:00 AM, EST
Submissions Close: May 18, 2023, 05:00 PM, EST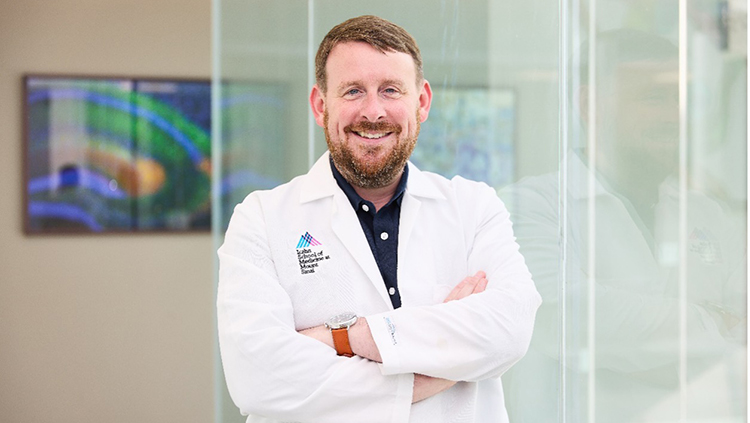 Ian Maze, PhD, of the Howard Hughes Medical Institute at the Icahn School of Medicine at Mount Sinai was awarded the 2022 Jacob P. Waletzky Award.
The Jacob P. Waletzky Award is given to a early career scientist (within 15 years of his/her PhD or MD degree) whose independent research has led to significant conceptual and empirical contributions to the understanding of drug addiction. Both basic and clinical researchers are eligible for the award. Future plans to continue to make significant contributions to addiction research and treatment is one of the selection criteria. This award is endowed by the Waletzky Award Prize Fund and the Waletzky Family.
Recipients receive a $30,000 prize and complimentary registration, transportation (economy air or ground), and two nights hotel accommodations for the SfN annual meeting. The SfN president presents the prize at a lecture at the meeting.
For more information, please review the Awards and Prizes FAQs.
Nomination Criteria & Materials
Nomination Criteria:
Nominations must be made or endorsed by an SfN member.
Nominees do not need to be SfN members.
Self-nomination is not permitted.
No person may nominate more than one candidate.
Current SfN officers and councilors are ineligible for nomination.
Due to the potential conflicts of interest, members of the selection committee may not be the nominees and they cannot serve as nominators nor write letters of recommendation.
Nomination materials include the following:
One nomination letter and maximum of two optional letters of recommendation
One letter must be from the nominee's current or previous mentor
Current CV, including date on which the advanced degree was awarded
A list of five of the nominee's most relevant and important publications to addiction research
Essay describing the future goals and direction of the nominee's planned research in the area of substance abuse and the brain and nervous system, maximum 500 words
Eligibility
Nominees must be actively engaged in research at the time the award is given.
Nominees must have future plans to continue to make significant contributions to addiction research and treatment.
Nominees must have received a PhD or MD (or equivalent) within the past 15 years.*
* Time taken off for child-rearing does not count in these totals. Part-time work and other special circumstances are evaluated at the discretion of the committee.
Past Awardees
2023: Hedy Kober, PhD
2022: Ian Maze, PhD
2021: Mary Kay Lobo, PhD
2020: Lorenzo Leggio, MD, PhD
2019: Thomas Kash, PhD
2018: Michael Bruchas, PhD
2016: Marisa Roberto, PhD
2015: Yan Dong, PhD
2014: Paul E.M. Phillips, PhD
2013: Rita Z. Goldstein, PhD
2012: Andrew Holmes, PhD
2011: J. David Jentsch, PhD
2010: Paul Kenny, PhD
2007: Marina Picciotto, PhD
2006: Yavin Shaham, PhD
2005: William Carlezon, PhD
2004: Antonello Bonci, MD
2003: Pierre Vincenzo Piazza, MD
Jacob P. Waletzky Award Selection Committee