Sumantra "Shona" Chattarji, Ph.D.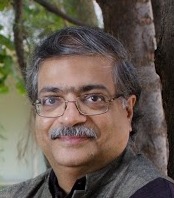 Administrative Accomplishments
Through a range of administrative and organizational roles (sections 6-7), I have gained layers of experience that, I hope, has prepared me well to contribute to the Society's mission in the areas of professional development, diversity, international partnerships, and public outreach. I founded and headed the Centre for Brain Development and Repair, an international collaborative research centre with the University of Edinburgh and Simons Initiative for the Developing Brain. This experience helped me better understand how international collaborations can drive neuroscience research in exciting new directions. This also aligned well with my longstanding commitment to mentoring talented and motived young scientists to be part of active exchange and training programs abroad. I have learned valuable lessons from my service on several Society for Neuroscience committees, as well as in my home institution. My administrative responsibilities included chairing IAECs, planning and managing animal care facilities, serving on various regulatory/steering committees, and recruitment and budgetary decisions. At the national level, I served as a Co-Chair of the Task Force on Neuro-Disease Biology and Coordinator for the National Mouse Research Resource Facility funded by the Indian government. I have also interacted actively with funding agencies, media outlets, policymakers and educational institutions as part of my public outreach efforts in India and abroad. While the Society's origins are in North America, it has evolved into a vibrant organization with a significant international footprint. Thus, my various roles and experiences across diverse scientific and social milieus will add a global perspective to shaping policies of the Society.
Degree, Institute, Year Earned
| | | |
| --- | --- | --- |
| Degree | Institute | Year Earned |
| B.S. in Physics | Calcutta University | 1984 |
| M.S. in Physics | Indian Institute of Technology, Kanpur | 1986 |
| Ph.D. | Johns Hopkins University & The Salk Institute | 1993 |
Research Areas
Neurobiological mechanisms of emotional symptoms in stress-related psychiatric disorders
Animal and human stem cell models of neurodevelopmental disorders
Synaptic plasticity mechanisms of learning and memory
Current Position(s) at Your Current Institution
Earlier this year I stepped down as Senior Professor after 25 years on the faculty of the National Centre for Biological Sciences, Tata Institute of Fundamental Research, Bangalore, India. I have just taken up a new position as the founder director of a research center for translational neuroscience, called CHINTA. This new center is part of the TCG Centers for Research & Education in Science and Technology, located in Kolkata, India.
Memberships
Organization
Position Held
Year(s)
Society for Neuroscience
Member
Member - Donald B. Lindsley Prize Selection Committee
Member - Committee on Animals in Research
Member - Workforce and Training Working Group
Member - Professional Development Committee
Member - Women in Neuroscience Subcommittee
Member - Advisory Group on Member Value
Member - Annual Meeting Advisory Group
Member - International Affairs Committee
1988-present
2020-2022

2015-2018
2014-2015

2012-2015

2015

2013-2014
2010-2012
2008-2011
International Brain Research Organization (IBRO)
Joint Committee of International Affairs Comm./SfN and U.S. National Academy of Sciences
2008-2009
International Union of Physiological Sciences (IUPS)
Fellow
2021
European Molecular Biology Organization (EMBO)

Associate Fellow
2020
Molecular & Cellular Cognition Society (MCCS), Asia

Past President & Secretary
Molecular & Cellular Cognition Society, USA

Past Council Member
Dana Alliance for Brain Initiatives

Member
2017
Indian Academy of Science

Fellow
2014-present
The Santa Fe Institute
International Fellow
2000
Service Positions
Editorial Boards:
Publication
Position Held
Year(s)
ACS Chemical Neuroscience
Associate Editor
Editorial Advisory Board
2020-present
2015-2020
British Journal of Pharmacology
Editorial Board
2020-present

Current Opinion in Physiology
Editorial Board
2017-present
Journal of Physiology
Editorial Board
2016-2018

Journal of Neurophysiology
Editorial Board
2012-2015
IBRO Neuroscience Reports
Editorial Board
2016-present
Journal of Neuroscience Methods
Editorial Board

2011-2021
Frontiers in Behavioral Neuroscience
Associate Editor
2010-2015
Neural Plasticity
Editorial Board
2006-2008
Journal of Psychiatry & Neuroscience

Editorial Advisory Board
Other Service Positions:
Organization
Position Held
Year(s)
Simons Initiative for the Developing Brain, University of Edinburgh, UK
Member, Strategic Advisory Board & Visiting Professor

2015-present
School of Clinical Sciences, University of Edinburgh
Honorary Professor
2014-2015

Gordon Research Conference on "The Amygdala in Health and Disease"
Chair
Vice Chair
2013
2011

Welcome Trust-DBT India Alliance
Early Career Fellowship Selection Committee

2013-2018

Department of Biotechnology, Govt. of India
Co-Chair, Task Force on Neuro-Disease Biology
2015-2016

Ashoka University, India
Science Advisory Group
Advisory Group, Department of Psychology
2016-2018
2018-present

Pfizer, India
Scientific Advisory Board
2011-2012
Indian-American Kavli Frontiers of Science Symposium
Chair, Organizing Committee
2011
International Center for Theoretical Physics, Trieste
Faculty, Workshop on Development & Evolution of Nervous Systems
2008-2010
Science Biography
After completing my MSc degree in Physics from the Indian Institute of Technology, I switched to neuroscience as a graduate student in Terry Sejnowski's laboratory at Johns Hopkins University and later at the Salk Institute. During post-doctoral research at Yale and MIT, I got interested in the contrasting effects of stress on different types of memories. Stress impairs memories of facts and events, which depend on synaptic plasticity in the hippocampus. In contrast, stress amplifies emotional memories, particularly aversive memories, which are processed by the amygdala. But little was known about the synaptic basis for this contrast when I started my laboratory at the National Centre for Biological Sciences, Bangalore, India. Using behavioral, morphometric, molecular and electrophysiological tools we identified novel neural correlates of stress-induced modulation of amygdalar structure and function — from synaptic mechanisms to their behavioral consequences – in rodents. Our findings point to unique features of stress-induced plasticity in the amygdala, which are in striking contrast to those seen in the hippocampus, and have long-term consequences for the affective symptoms seen in stress-related psychiatric disorders (J. Neurosci. 2002, 2013; Nature Neurosci., 2015, 2015; PNAS 2005, 2006, 2019; eLife 2018).
We also extended our research to explore a neurodevelopmental disorder – Fragile X Syndrome (FXS) – that too is characterized by cognitive and affective dysfunction. In one of the first analysis of the neural basis of amygdalar dysfunction in FXS, we identified synaptic defects in the basolateral amygdala (PNAS, 2010; Curr. Opinion Neurobiol., 2011) that are distinct from those reported earlier in the hippocampus. We also found presynaptic mGluR5 in the amygdala, activation of which reversed deficient synaptic transmission and plasticity, thereby restoring normal fear learning in FXS rats. This highlights the importance of modifying the prevailing mGluR-based framework for therapeutic interventions to include circuit-specific differences in FXS pathophysiology (Cell Reports, 2021). Though findings from animal models of FXS have provided valuable insights, they have not always translated into effective clinical outcomes for patients. This underscores the need for alternative strategies to model FXS using human-based platforms. We recently identified an important cell non-autonomous contribution of human astrocytes in correcting aberrant electrical activity in human FXS neurons, thereby suggesting a framework for exploring new therapeutic strategies aimed at human neuron-glia interactions (Cell Reports, 2023).
Finally, this scientific journey benefited from the support and generosity of others. Our work would have been impossible without the very talented and motivated trainees I had the good fortune of working with in India and abroad. Our early work in India depended mostly on training students/post-doctoral fellows with no background in neuroscience, including those from the physical/engineering sciences. Many of these young Indian neuroscientists have later pursued careers abroad or returned home to start their labs. Our research was also enriched by collaborations with labs in the USA and Europe. Together, this experience has given me a unique global perspective on neuroscience research and education that is in alignment with the Society's mission in the areas of professional development, international partnerships, mentoring, and diversity.
The full CV for this candidate can be found within the ballot.